Products You May Like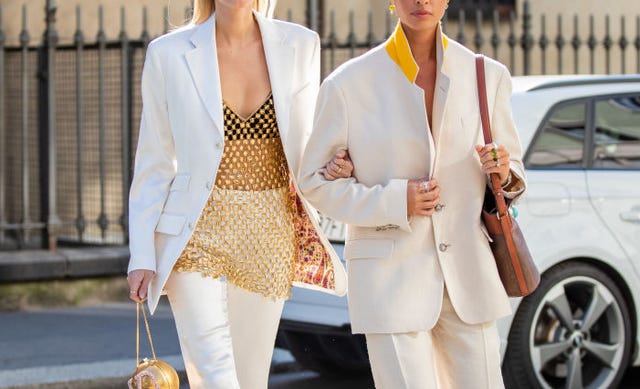 Christian VierigGetty Images
Make no mistake, it's an energetic time in fashion. Culture has always influenced the way we dress, and with the zeitgeist evolving as it has over the last several years, it only makes sense that our wardrobes would follow suit. This spring, take a cue from the season's renewed energy and embrace dynamic style heroes that speak to the moment—from colorful pieces that indulge your early aughts nostalgia to romantic design details that remind us why it feels so good to get dressed up again. No matter what styles you gravitate towards, there's a Sam Edelman shoe for every moment.
Read ahead for the looks you'll be wearing all season long.
Modern Minimalism
With clean lines and streamlined silhouettes taking center stage, the modern minimalism trend is a favorite to replace stagnant wardrobe staples. This season, embrace this pared-back sensibility with crisp neutrals and tailored pieces that aren't afraid to show some skin. Those craving simplicity and ease should look no further than the season's chicest mules and trousers.
Romantic Ruching
It's no coincidence Cottagecore took hold so strongly when it did—this feeling of escapism and romance resonates strongly at the moment. Encapsulate that sense of whimsy via pieces designed with ruched detailing. There's something exquisitely elegant about gathered fabric. And it translates across pieces from blouses and dresses to handbags and the season's best sandals.
Preppy Staples
Micro trends like tennis skirts, polos, draped knits, and sweater vests are already making a splash, so expect these preppy staples to continue as weather warms up. Even if you don't think of your style as country club-inspired, mixing and matching polished items like a crisp loafer with your existing wardrobe is a perfect way to enhance your spring style.
Y2K Nostalgia
The carefree attitude and skin-baring silhouettes of the early aughts are returning to the mainstream. With baby tees, cargo pants, and the-brighter-the-better color palettes making a comeback, why not imbue your 2022 style with a nostalgic point of view? A bold pair of chunky slides will do just the trick.
This content is created and maintained by a third party, and imported onto this page to help users provide their email addresses. You may be able to find more information about this and similar content at piano.io