Products You May Like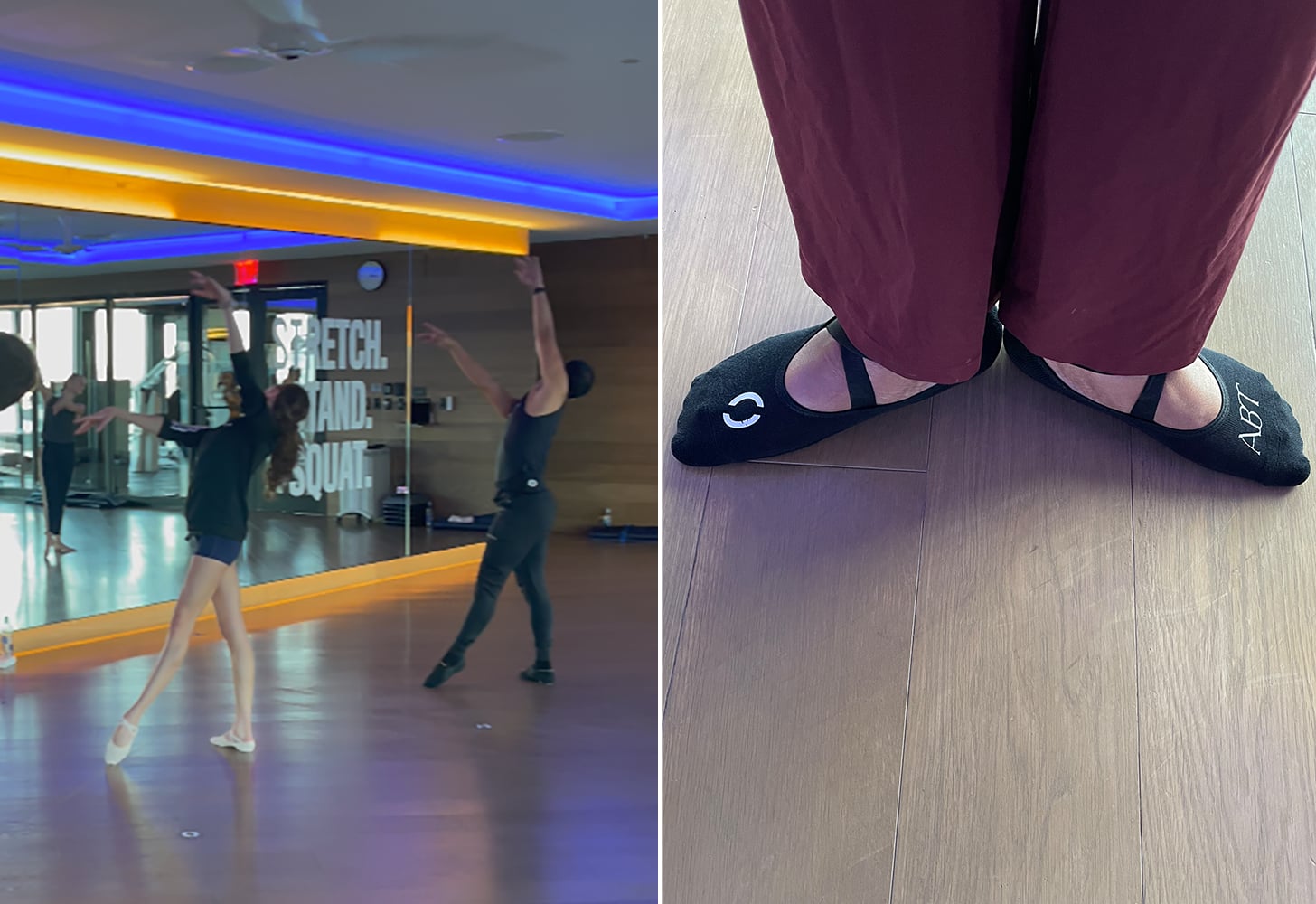 As a lot of young kids did, I took ballet classes from my toddler years until I graduated college with a degree in dance (focusing mostly on contemporary dance). From ages 15-21 I also taught ballet to toddlers and teens. I've never wanted to become a professional ballerina, however, I've always appreciated the technique and musicality of ballet. Now in my late 20s, I don't necessarily want to take traditional ballet classes anymore but I catch myself missing the pliés (bending of the knees) and jetés (jumps) of it all.
I guess Equinox was listening to my thoughts, as a representative recently invited me to the Hudson Yards location to take the Ballet By Equinox x ABT (American Ballet Theatre) class. Created by NASM-certified personal trainer, Equinox instructor, and Juilliard alumni, Chris Vo along with NASM-certified personal trainer and seasoned ABT's Corps de Ballet member Kathleen Boren, this 45-minute class combines fundamental ballet moves with cardio, sculpt, and core strengthening exercises. Beginning Nov. 1, the Ballet By Equinox x ABT classes will be available to book through the EQX+ app for in person classes at select New York City, Los Angeles, and Washington, D.C. Equinox locations.
Stepping into the familiar Equinox Hudson Yards studio about to do ballet for the first time in years was a slightly intimidating experience. Walking into a room with a mat, band, and pair of sticky socks (which mimicked ballet flats) in front of me, I was both nervous and excited for how this was going to go.
As someone who's taken Vo's Stacked! classes before I was familiar with his energetic and motivating teaching style but was also curious about his connection to ABT and the dance world. In learning more about his past I found out he was assistant choreographer to one of my all time favorite choreographers Jessica Lang. Knowing her work, I strongly appreciate her attention to detail, precise movement, and choreographic style, so knowing that Vo worked closely with her only raised my anticipation for this class as I became incredibly curious about what type of movements this class would include.
Ballet By Equinox x ABT: Class Experience
The beginning portion of class felt a lot like the warm ups we usually do in a ballet class at the barre only without the barre. Classical music played in the background as we moved through pliés, tendus, and rond de jambe. Finding my footing (literally), my muscle memory kicked into gear as my joints felt like I was putting fresh oil in a car engine. I especially tapped into my contemporary dance side as I decided to remove the sticky socks shortly after starting class since, for me, it was easier to find my balance and articulate my feet barefoot.
Throughout the warm up section Vo gave us the option to include port de bras (carrying of the arms). Honestly, my face illuminated when we got to use port de bras. It was my favorite part of doing ballet growing up. Moving my arms through space in such a poised has always made me feel regal. With nostalgia coursing through my veins from the warmup alone, it was time to move onto the workout.
The shift from classical music to songs that, I'd say, fall in the dance genre, cued the shift to begin the sculpt focused part of class. Staying spaced apart on the dance floor, Vo showed us how to wrap a thera-band around our bodies in a way that wrapped like a ribbon diagonally around our leg over our core to the opposite arm. In a post-class interview in the studio at Equinox, Vo added that the thera-band serves as "proprioceptive feedback" — which is feedback that helps someone develop stability and muscle memory on how to perform the moves. With this intricate wrapping we did sequences very similar to the floor part of class where we would stay in a generally small area in the middle of the dance floor and attempt technical combinations which included arabesque (stance with one leg lifted), port de bras, penché (tilt), and other ballet moves.
When I used to teach ballet to toddlers I would always tell them to imagine a ribbon wrapping around their leg as they practiced their turnout. Now, years later, I had a literal (rubber) ribbon around my leg and it definitely helped me maintain my turnout as well as feel the connection of energy from my leg to my opposite arm. From personal experience, using the thera-band also added resistance to every move we made so I felt every muscle that had been on a hiatus from ballet quickly reactivate.
Once we were done with the thera-band we got on the ground to go through a brief core strengthening series (planks, crunches, and push ups with a passé) before moving onto my personal favorite portion of class — across the floor!
Back when I used to take ballet classes, the across the floor section was my favorite. We'd learn a short combination, then would dance from one side of the room to the other. This experience was exactly the same in the Equinox x ABT class, only I wasn't worried about being evaluated by the instructor. One of the across the floor combinations Vo taught included chassé to sauté arabesque — a move where you glide to one direction then jump in the arabesque position. This specific sequence of moves is a ballet class classic and continued to fuel the nostalgic feeling in my whole being. Vo could tell that I was reliving my childhood as he high-fived me when I made it to the other side and said that my muscle memory definitely kicked in.
At the end of the across the floor section, all of the participants went back to the center of the room to do one final combination, also known as a révérence — a final sequence where dancers thank each other, the instructors, and (if present) the pianist through dance.
At the end of class I was absolutely beaming with joy. For so long I've craved a ballet class that didn't involve needing to go to a dance studio and that class is finally here. The Ballet By Equinox x ABT class, crafted by Vo and Boren, truly blends ballet technique with sculpting exercises and core work to offer a workout that will reignite childhood memories and muscles that have been long forgotten.
If you are, or plan to be, in the New York, Los Angeles, or Washington D.C. area head over to your EQX+ app to secure your spot for class.
Image Source: POPSUGAR Photography / Angelica Wilson