Products You May Like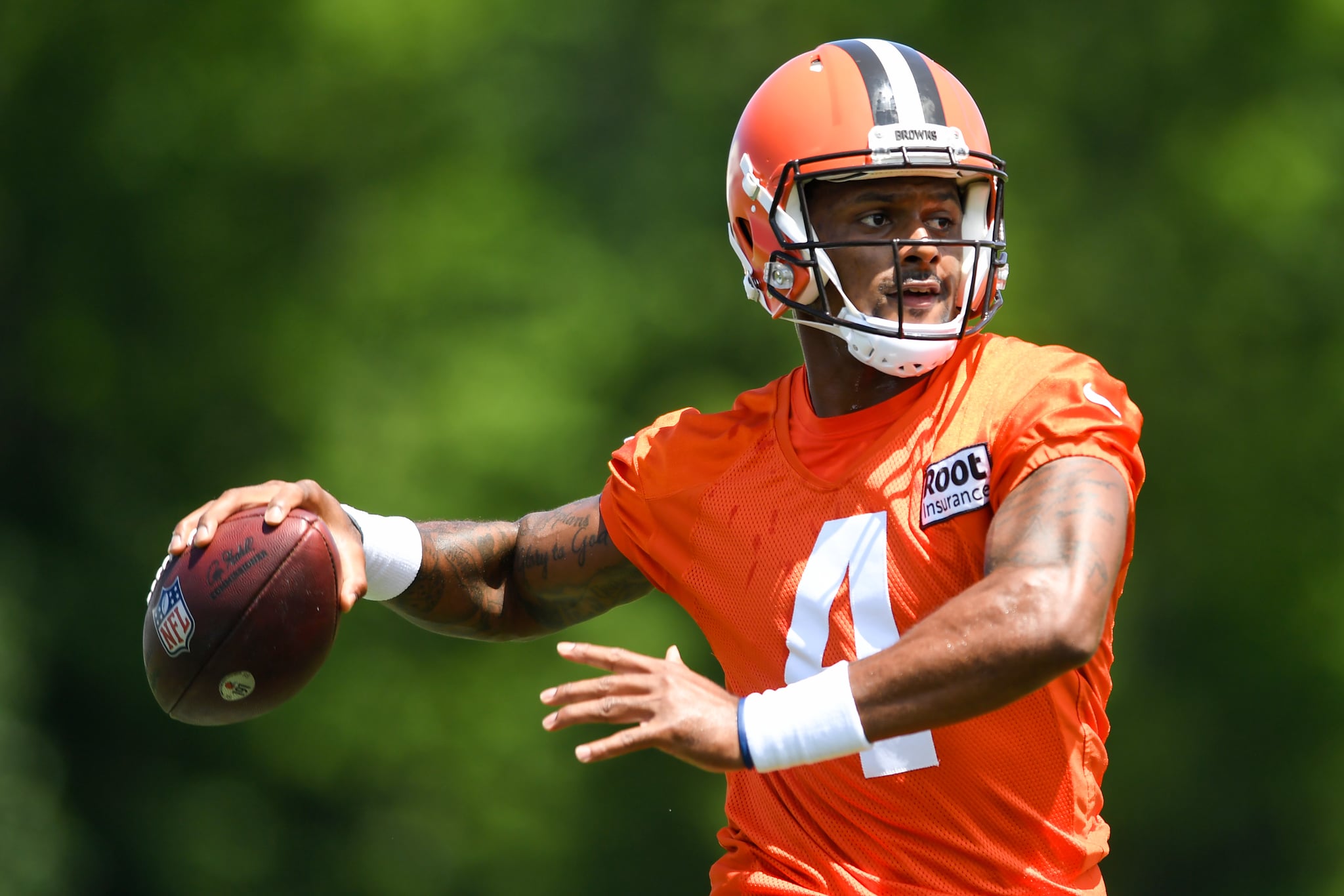 Image Source: Getty / Nick Cammett
Cleveland Browns quarterback Deshaun Watson has been suspended for six games without pay for violating the National Football League's (NFL) personal conduct policy. The suspension comes in response to the more than two dozen women who have come forth with allegations against Watson for sexual misconduct during massage treatments. Watson is also limited to "club-approved massage therapists, in club-directed sessions, for the duration of his career," per The New York Times. However, Watson did not receive a fine. The ruling came in today from retired federal judge and NFL disciplinary officer Sue L. Robinson, and the NFL or NFL Players Association (NFLPA) have three days to appeal Robinson's decision.
The six-game suspension is significantly less than the NFL's request for a 17-game season and postseason suspension, CNN reports — a request that Robinson criticized for being unfair. "Here, the NFL is attempting to impose a more dramatic shift in its culture without the benefit of fair notice to — and consistency of consequence for — those in the NFL subject to the Policy," Robinson said, per CNN.
The NFLPA already released a joint statement with Watson ahead of Robinson's ruling, stating it would "stand by her ruling" and "call on the NFL to do the same."
Our joint statement with Deshaun Watson on the impending arbitration decision: pic.twitter.com/9ObLnHiX6J

— NFLPA (@NFLPA) July 31, 2022
This isn't the first time Watson's conduct has come under scrutiny. While still a member of the Houston Texans team, Watson did not play a single game in 2021 due to ongoing court cases. Earlier this month, 30 women reached a confidential settlement with the Houston Texans after claiming the organization enabled Watson's misconduct (The New York Times reported that Watson met with at least 66 women for massages in just under a year and a half and used hotel rooms and NDA agreements provided by the Texans).
Watson and his legal team denied sexual-assault allegations when he joined the Cleveland Browns. The Browns were heavily criticized for signing Watson to the team in March having already known about the 24 women suing the quarterback for sexual harassment or assault. The allegations largely concern Watson's conduct during massage treatments. The plaintiffs claim Watson exposed himself during massages, touched the women with his penis, and coerced nonconsensual sexual acts, including oral sex. Only one of the 24 lawsuits brought against Watson currently remains pending, as the rest have been settled over the past few months.
"We will continue to discuss the remaining case with Watson's legal team, as appropriate," plaintiff attorney Tony Buzbee said in a statement. "We will continue to discuss the remaining case with Watson's legal team, as appropriate. This case started because one woman had the fortitude to step forward and make her voice heard. Her courage inspired many others with the same experience. None of this saga would have occurred without that one brave voice. One person can make a difference."
Watson's suspension raises important questions about the NFL's stance on sexual misconduct. Already, Watson's suspension is being criticized as a slap on the wrist, and the ruling adds to the NFL's legacy of disregarding the seriousness of sexual assault and domestic abuse.
Former Baltimore running back Ray Rice was initially suspended only two games after CCTV footage surfaced of an altercation between him and his wife, which included Rice dragging his semiconscious wife from a casino elevator (though amid public outcry, Rice was later suspended from the league). Pittsburgh quarterback Ben Roethlisberger was twice accused of rape and is still expected to be inducted into the NFL Hall of Fame. Former Kansas City Chiefs star running back Kareem Hunt was caught on camera pushing and kicking a woman and received just an eight-game suspension. To put these numbers into context, Cleveland Browns wide receiver Josh Gordon was suspended for an entire season and banned from all practice and club functions after failing a marijuana test in 2014.
The irony isn't lost on sports fans, either. One Twitter user wrote, "Just to put it into perspective, Tom Brady got 4 games for deflating some footballs. Watson sexually assaults 20+ women . . . 6 games. The NFL is a joke." NFL reporter Dov Kleiman tweeted, "Josh Gordon was suspended for 78 games by the NFL for smoking weed. Calvin Ridley was suspended for at least 1 full season for making a bet that his team will win. Vincent Jackson was suspended for 3 games because of unlicensed driving. Plaxico got 4 games for shooting his leg."
Still allowed to attend practice, Watson was reportedly met with loud cheering from fans after the suspension was announced.
Watson's light suspension begs the question of whether the NFL will ever take allegations of sexual misconduct seriously.
POPSUGAR reached out to Watson's agency, but as of 5:15 p.m. ET press time, they had not returned the request for comment.