Products You May Like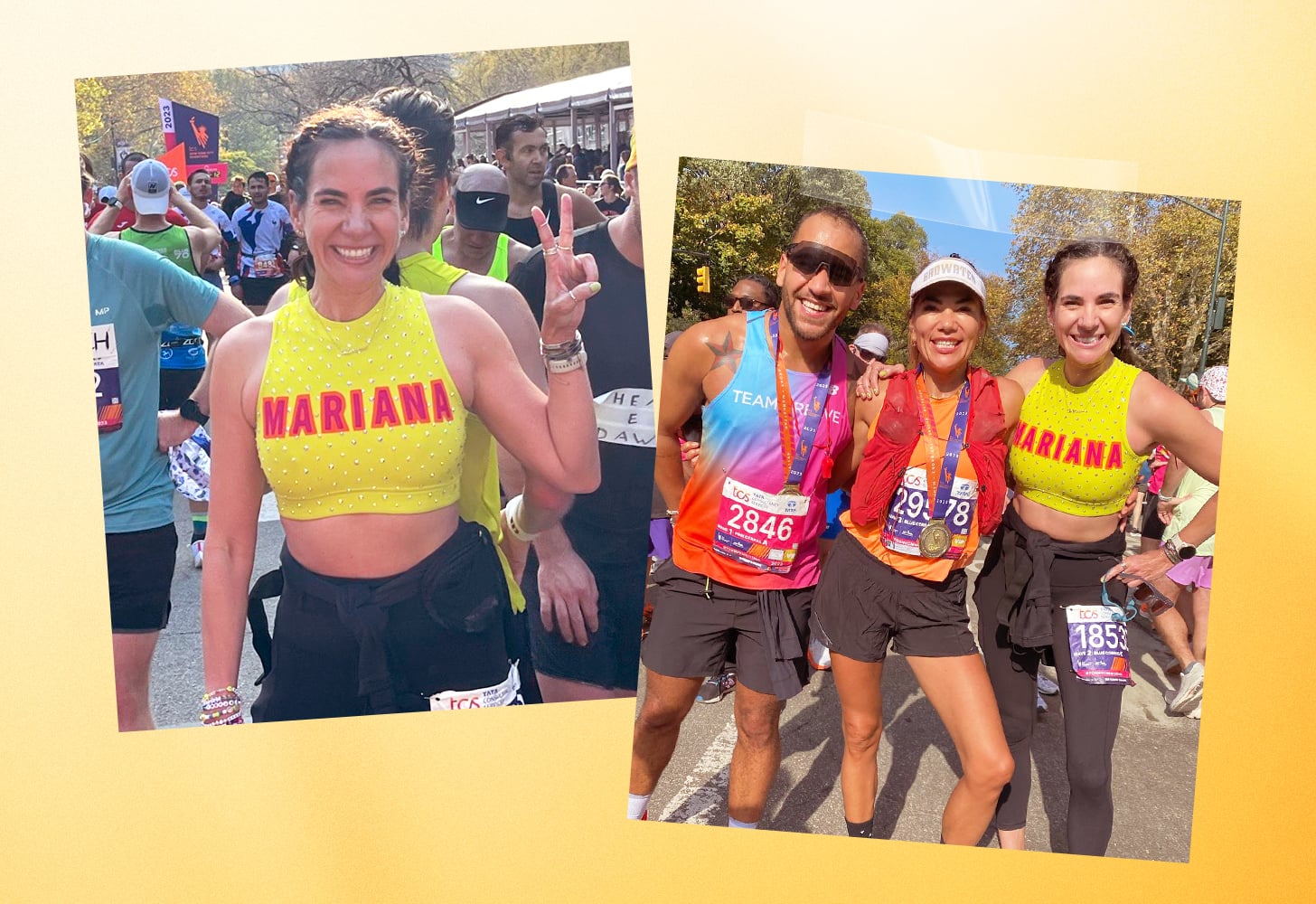 For Mariana Fernández, the third time was the charm — at least when it came to running the New York City Marathon.
The Peloton instructor ran the iconic race for the third time this year, and secured the PR she's had her eye for years: a sub-4-hour finish. That's impressive in its own right, but what makes it even sweeter is the fact that she walked away with this result despite taking almost all of August off from running — typically when NYC Marathon prep starts getting serious — to freeze her eggs. The timing of the procedure threw a wrench in her training, she says, and left her bedridden for 10 days.
Still, she came out the other side to run the Chicago and NYC Marathon back to back, secure that PR, and run her most joyful races yet. Ahead of the NYC Marathon, Fernández opened up to POPSUGAR about the journey she's been through in the last few months, and it's just as inspiring as anything you'll hear her say in class.
Hitting Pause
Fernández was working hard all year with this PR in mind; she ran half marathons every month through the winter, and was having a great training summer. Then, everything fell into place for her to pursue another personal goal: freezing her eggs.
"I had been in the talks of doing fertility treatment and I finally found a doctor that I really liked, we found a window of time, my 30th birthday was coming up, and everything kind of aligned," she tells POPSUGAR. "This is something that I wanted to prioritize and do for myself. August was dedicated to getting that done, but it took me out for about three and a half weeks because my recovery was also pretty painful."
Egg freezing typically involves about two weeks of hormone shots and a retrieval procedure done while under general anesthesia. The recovery experience can vary; Fernández says her sister was hiking two days after her egg retrieval, while she herself was stuck in bed for 10. And during the process itself, many doctors recommend patients abstain from exercise completely or stick to low-intensity, low-impact methods to reduce any risk of interfering with the effectiveness of the procedure.
For someone whose livelihood is teaching fitness classes, that's tricky. But perhaps even more difficult for Fernández was the inability to use exercise as a mental health tool, especially around such an important and emotionally charged procedure.
"It's a very emotionally taxing and demanding process, and the fact that you can't have some of your outlets readily available . . . for me, that was really tough," Fernández says. You don't know how you're going to react or how your body's going to take the different parts of the process, and sitting around and waiting for that to play out can be challenging. Fernández relied on her personal meditation practice and took solace in speaking with fellow Peloton instructors who've also been through difficult fertility journeys, including Jess King and Robin Arzón.
Though her recovery was "rough," Fernández made it through. "As much as you can have these big goals and this training plan, life happens and you have to pivot and adapt," she says. "That was a big reminder for me this year."
Finding Joy in Running Again
Fernández was signed up to run the Chicago Marathon on Oct. 8, not long at all after going through the egg-freezing process, and a month before the NYC race. She was originally planning to gun for her PR at the first race, but life demanded she pivot.
"Women are really as resilient as anything. . . at the marathon it almost felt like, if my body can do all that? I've got this."
So instead of going for the time she was training for, she ran the race "like I had done my first marathon: just for fun," she says. "I ended up dressing up and put on a tutu and a Mexican flower crown, and I did it as a walk-plus-run to make it through and use it as my long run for New York. And I just had the best time. I was smiling the whole way through. It was not painful, and I didn't suffer it. Even though it wasn't my fastest run — it was actually probably my slowest marathon time — it was my smartest run."
That joy was about much more than crossing the finish line: it was about making through the egg-freezing process, too. "Ultimately, the empowerment that I got from the process, it's something that I wish more women talked about, because it is very personal. And it's a very solo journey, whether you have a partner or not," Fernandez says. "I've been talking to other women who've gone through this treatment and about just how empowering it is, how you're doing it for yourself. And that really fueled me when I got back out there and started with one mile and then five miles and then even through the marathon, that was something that I kept reminding myself. It was kind of like a mantra."
Finishing Chicago feeling strong, capable, and — more than anything, happy — left Fernandez in awe. "Women are really as resilient as anything. . . at the marathon it almost felt like, if my body can do all that? I've got this," she says.
@latiamariana

✨LIFE is what happens when you're busy making plans✨My first fertility appointment was in 2018 and fear and finances made me postpone always. Fear turned to empowerment with every injection, every monitoring session, even the painful and long recovery- it was my journey and my power. There will never be the perfect time, and I love that as women we are having this conversation and taking the taboo out of doing something to give options for YOUR FUTURE. My eggs are frozen, the pressure eased, the fear gone. 🦋✨💚my training, my plans changed- I will come back, Pasito a Pasito. Grateful for my angels (you know who you are 🙏🏽✨) and @dranatebrauer and reminders and no regrets for the gift for future chapters 💚🦋@Shady Grove Fertility
Returning to New York
Fernández was feeling good after Chicago, and by the time November rolled around, she was back to her initial training plan, but "with a new perspective, for sure," she says. She had a conversation with fellow Peloton instructor Rad Lopez, who also ran both Chicago and New York, and he asked: "What do you want out of this one?"
Fernández came to the realization that she "really took for granted that these could be fun." And after having such a great time during Chicago, that become her MO for New York, too. "Is that PR in the back of my mind? Yes . . . but if I can keep that sense of fun, that's my goal. And I know, if I was smiling throughout Chicago, it's gonna be ear-to-ear in New York. This is my hometown. This is the best day in New York City." Sure enough, she did it — and she got that PR, too.
"I just wanted to be able to come back and feel strong," she told POPSUGAR after the race. "The energy of the city carried me the 26.2 miles and as excited as I got, I wanted to have a thoughtful [race]. I saw the time at the finish line — after seven marathons and sprinting to the finish, I reached a PR and for the first time ever, I broke four hours. I loved every minute of this one."
The secret to her success? Giving her body grace, listening to it, and having faith that everything is temporary. All those lessons, plus remembering that you can always surprise yourself — something she often says in her Peloton classes. "Even my fertility treatment, I kept putting it off and I kept putting it off because I thought I couldn't do it and I didn't want to do it alone. And then afterward, it's like, oh, I did that," Fernández says. "I say this in class all the time, too: sí, se puede. Yes, you can. Yes, you can, and yes, you did."
Image Sources: Courtesy of Mariana Fernández and Photo Illustration: Aly Lim