Products You May Like
Before Alia Bhatt flew to Italy for the Gucci show during Milan Fashion Week, she got word from the fashion label's creative director to bring along her favorite pair of jeans. "I was told that Sabato [De Sarno] didn't need or want me to be in all Gucci," she says. "He said that I could wear something I loved and pair it with something that represented the brand. He wanted me to be myself and feel comfortable. I found that so fascinating." At her fitting, the Indian actress chose the first look that was presented to her: a shimmering neon green top that could boast both a collar and a self-devised deep V neckline. She paired it with her own well-worn, washed-out bell bottom jeans. "There were several options that I didn't even try because this was the look; I felt instantly comfortable."
While last week marked the actress' second official Gucci show as brand ambassador (she made her official debut at the cruise 2024 show in Seoul this past spring), there was a different kind of excitement surrounding this particular event. The buildup around the spring/summer 2024 collection had a lot to do with the newly-minted leader's vision for the fashion label. "Whatever little I was hearing and kind of sensing was that this show was going to be super different," Bhatt tells me via Zoom from her home in Mumbai. "I didn't even do my fitting until the day before the show. That's how guarded the collection was—right up until the last minute."
Bhatt says that becoming the brand's first-ever Indian ambassador was also something of a natural fit—as well as an escalation of events. "If you ask me, the way it happened was very fast," she says. "I had my eye on associating with a luxury brand, and it was the right moment because India is experiencing a boom in the market; the spending power has really gone up. There is a huge interest in fashion and beauty. Gucci was always interested in India, and I represent a certain demographic." Bhatt says the opportunity unfolded organically. "Not to mention the fact that my sunglasses cabinet is full of Gucci," she adds with amusement. "I believe the best things in life happen naturally."
The same could be said for Bhatt's acting career. Her father is veteran Indian filmmaker Mahesh Bhatt, and her mother, Soni Razdan, is a longtime actress (half-sister Pooja Bhatt was a popular actress in the '90s as well). Now 30, Bhatt has been working in film for over a decade and is considered among the most successful Indian actresses of her generation. Her latest Indian film, Rocky Aur Rani Ki Prem Kahani (The Love Story of Rocky and Rani)—released this past summer—was reported to be the highest-grossing Indian rom-com of all time. She has also won a number of Filmfare Awards (one of India's most prestigious film events)—for playing unconventional roles such as a female mafia don and brothel madam in the biographical crime drama, Gangubai Kathiawadi. "I choose films the same way I've been doing [it] for years," she says. "I just keep it flavorful. I want the flavors to be different from each other. It's to satisfy my extremely impatient, monotony-abhorring kind of brain. It's not at all calculated."
Although films are part and parcel of her DNA, Bhatt didn't really grow up watching her family's movies. "Honestly, I was very sensitive as a child and I took the films too seriously," she says. "I didn't want to see my mother being pushed out of a window or see her suffering. That wasn't something I wanted to engage with." Similarly, some of her father's films were also too gritty for her age at the time; but she did watch a lot of Pooja's work on repeat. "The cutesy romantic stuff I could handle," she says with a laugh. Long before she understood what her family did for work, she had what she calls the "bone of a performer." She adds: "I liked what I saw coming from the television box—the people dancing around and making faces at each other. I thought it might be nice to be inside that box one day."
Bhatt is keenly aware of her privilege when it comes to her career—and how much easier her path into show business has been in comparison with her parents' journey. "My mother came from nowhere and didn't know how she was going to make it," she says. "She had no connection to films and went from theaters to film studios to television studios to audition. She also couldn't speak Hindi well, so that was difficult for her. She never became a mainstream heroine. But she worked very hard. People say you just need to work hard and you'll make it, but that's not true." Bhatt says that whenever her mother got an opportunity to act, that's what she did. Whether it was television, film, or theater—no job was too small. "I think that's really something I took away. It made a big impact on me; she made me aware of how fortunate I am early on." Bhatt's mother was always preparing her—whether it was advising her on being punctual, patient, or developing a thick skin. "Either for rejection or for what people will always be saying about you," she says. "She kind of ingrained all this into me, and it was from her own experience."
She says that although people associate her father with his success, he also struggled. "He had a bunch of flops at one point; he barely had any money, and he was battling an addiction to alcohol," she explains. "He eventually gave up drinking, but things were still very up and down with his life and work. My parents struggled to get to a point where I could enjoy their privilege. I do recognize that. If tomorrow I don't do well and I stop getting films, I'll still always acknowledge the fact that I got such great opportunities, so I can never really complain."
Hollywood is a whole new territory. This past August, Bhatt made her debut in the Netflix spy/action/thriller film Heart of Stone, playing criminal hacker Keya Dhawan, opposite Gal Gadot. Although she couldn't say much about the experience because of the SAG-AFTRA strike, she reveals that Hollywood wasn't necessarily an ambition for her, per se. "The goal is always to put myself in rooms, studios, sets, and situations that I'm not very familiar with. Doing an English-language movie is out of my comfort zone. It would be the same as doing a [South Indian language] Tamil or Telugu film." Bhatt says it's important to her to tap into a market that isn't well-versed with her work. "That's a whole new challenge, but it's also very humbling. I like the idea of starting from scratch. It's also a way to mix it up."
She doesn't see an issue with staying in her comfort zone when it comes to style, however. "To me, a chiffon saree is even more comfortable than jeans and a T-shirt," she says. "Whoever invented the saree was a genius: it's meant for our weather in India because it's airy and light, and you feel like you're enveloped by a cloud. Your mood can go from zero to hero the minute you put one on." As an Indian woman who adores the silhouette of a saree myself, I get it. The usually six-yard silk garment has the capacity to take on a string of roles: it can seem sweet and innocent or look daring and dramatic, depending on how it's worn. "The saree does it all at once: it has softness, femininity, and sex appeal. It encompasses everything."
Even though she is a week away from working on a new Indian action-thriller produced by her company, Eternal Sunshine Productions, and is also in the midst of scheduling filming dates for another Hindi movie that will co-star Priyanka Chopra Jonas, Bhatt admits that she still has fashion on the mind. "It would be a dream to help design a Gucci-inspired saree and wear it to a massive event like the Met Gala," she confides.
---
Makeup by Wendy Rowe; hair by Dayaruci; styled by Fabio Immediato.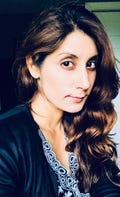 Wendy Kaur is a Toronto-based lifestyle, beauty and fashion writer whose work has been published in British Vogue, ELLE Canada, InStyle, FASHION, FLARE, and others.