Products You May Like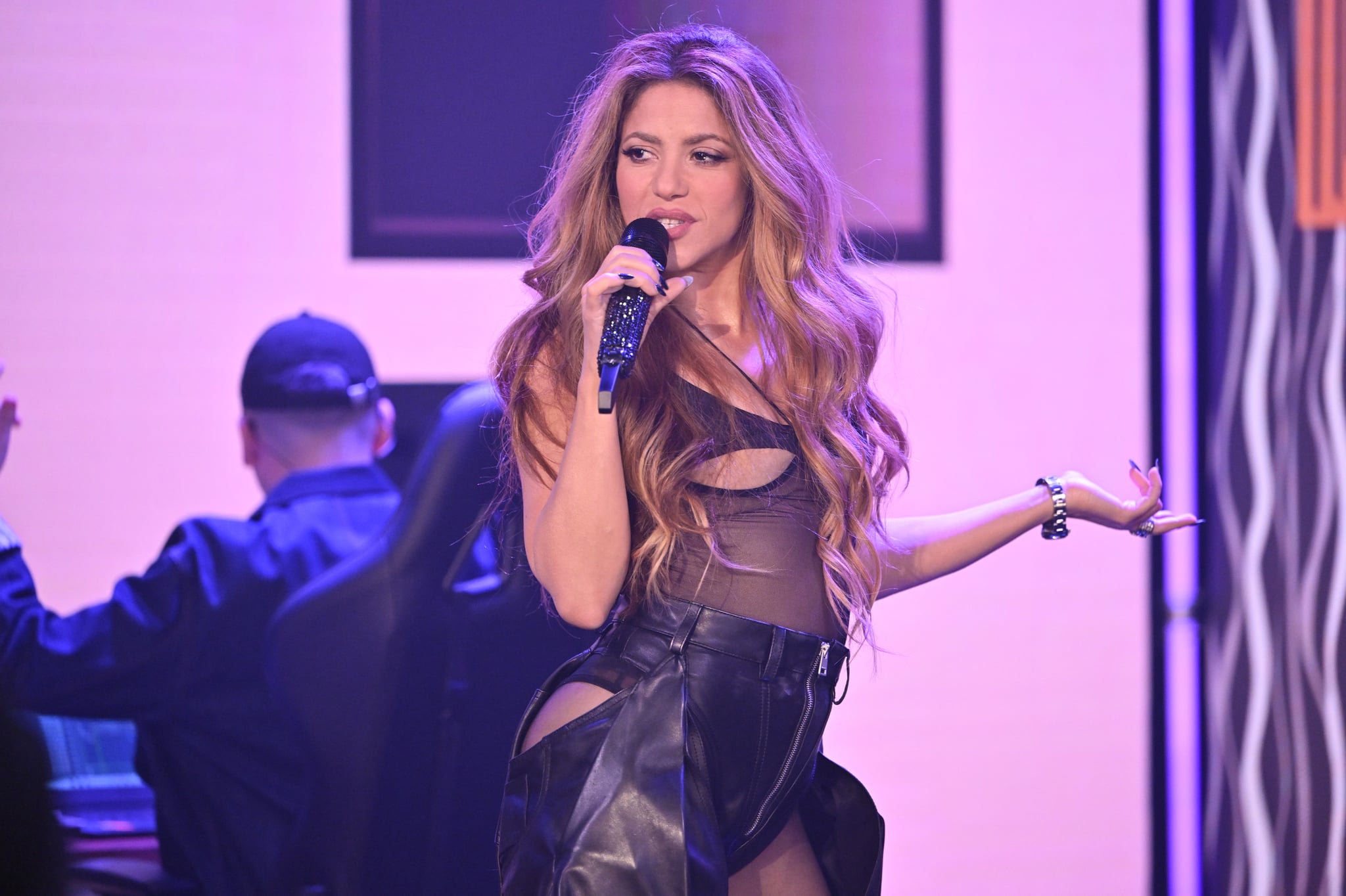 When we first spoke with Shakira's longtime trainer, Anna Kaiser, in January 2018, she was prepping the star for a world tour. About six years and one global pandemic later, the two are still training together, though this time, Kaiser is helping the singer weather major life changes — including a split from soccer player Gerard Piqué, her partner of 11 years, and a move from Barcelona to Miami with her two sons, Milan, 9, and Sasha, 7. That's all while riding the waves of her latest megahits, "Bzrp Music Sessions, Vol. 53" with Bizarrap and "TQG" with Karol G.
One constant through it all, though, is her fitness routine. Kaiser has been working with Shakira for an impressive 13 years now, and it's a testament to their bond as well as the workout method. (Kelly Ripa is also a fan, and has been working out with Kaiser for just as long.)
"Ultimately, the relationship started because she knew she could count on me. She gets the results she wants and [knew] that I was going [to] push her to be her best," Kaiser tells POPSUGAR. "And then it continued because of the trust and the friendship and the sharing of our lives together, which is wonderful."
The two train together regularly via video chat but meet up for in-person workouts whenever they can — often sending their kids off to play soccer while they're busy training.
"I think for all of us busy moms, the challenge is really scheduling and fitting everything in," Kaiser says. "[Shakira has] been great about keeping up her virtual workouts and making sure that she focuses on staying active . . . She's really busy and we're doing our best to keep up with workouts three to four days a week."
Curious about what the singer's training looks like these days? We chatted with Kaiser about Shakira's current fitness routine and pulled out the tips you need to try it yourself — because honestly, it's one worth emulating.
Build Your Weekly Routine Around 2-3 Strength Workouts
"The easiest thing to fit in is low-intensity sustained cardio sessions," Kaiser says — think: walking on a treadmill, going for a run, doing a cycling class — "but the most important thing to fit in is strength." That's because it takes a lot more effort (both exercise- and nutrition-wise) to maintain and build muscle over the age of 40, she explains. So for Shakira, who's 46, Kaiser focuses on programming two or three days a week of strength training.
"[The workout] varies from day to day, but it's usually a combination of lifting weights and short bursts of cardio," Kaiser says. They use a combination of dumbbells, resistance bands, and bodyweight moves.
She typically keeps the workouts the same for two weeks before switching it up; that way, Shakira can focus on performing the moves properly and knows what to expect, versus "being surprised and having to learn through a screen," Kaiser says.
Pro tip: Focus on compound moves. "Most of the work I do is focused on full-body compound movement, not working individual muscles because your body works as a whole being and not as a combination of parts," Kaiser explains.
Compound exercises are moves that engage multiple muscle groups at once (like a squat or deadlift, versus a bicep curl). Since they get more muscles working and demand more from your body, they also tend to keep your heartrate up — and that's exactly what Kaiser wants to happen. That way, even if it's not a dedicated cardio workout, Shakira still gets some of those benefits, including "energy, circulation, mental clarity, and happy factor, as well as challenging your muscle power level and burning off calories," Kaiser says.
Then, Add Cardio — Dance Cardio
Depending on the day, Kaiser will add some dance intervals to Shakira's sculpt workout, or they'll do a cardio-focused dance workout or hit the treadmill.
"The dance [component] is so important [for Shakira] to stay connected to her movement, her body, and get her mind off of work," Kaiser says. "You can be so present when you're doing a dance workout. It's great for creating new neural pathways and mental stamina."
"There's a shift for people sort of away from cardio, but cardio's really important done the right way."
In fact, there was a study in the New England Journal of Medicine in 2003 in older adults that found dance was one of the best activities for improving cognitive function — significantly better than activities like reading or crosswords. The magic is in "learning movement in the moment," and "having to translate what you see to having your body actually perform those movements," Kaiser says.
"There's a shift for people sort of away from cardio, but cardio's really important done the right way," Kaiser says. "And dance is a great way to integrate and challenge your brain while you're also training your body."
Even if dance cardio has never been your thing, try it out with a routine that's midway between a workout and straight-up dance, like the dance classes Kaiser offers; they alternate strength intervals with heart-pumping dance sections. Or, for a no-commitment option, cue up one of our POPSUGAR Fitness Dance Fitsugar routines on YouTube.
Make It In-Person, When You Can
When Shakira has something specific to train for, Kaiser will fly out to where she is for in-person sessions. In 2020, "for the Super Bowl, I went out [to Barcelona] every week and stayed there for three weeks towards the end of it. But it depends on the project. If it's a video, I'll usually go out for two weeks, two to three months before the video, and then come back once before the actual shoot. And we do virtual in between."
Kaiser has found that those in-person moments really stoke the motivation and help level up the workouts — something she's also seen pay off for non-celebs in the Anna Kaiser Studios retreats she hosts.
"To stay motivated, connecting with someone that you know is gonna be there for you, champion you, and keep you going is so important, so that you're not just working out in a void," Kaiser says. "I think turning on a video every day will work for a little bit, but humans need humans and it's important to connect with someone that you know, who's there rooting for you, and giving you that energy to keep going when the days get hard."
Stay Consistent
Shakira's motivations for working out shift over time. Right now, for instance, the singer isn't training for a world tour or specific performance, but rather for general health and wellness, plus all the other mental benefits of working out.
"There's a lot going on [for Shakira], so it helps with energy, it helps with stress and anxiety relief, it just puts you in a better mood overall," Kaiser says. "And staying strong for all the activities that she has is really important so that she can continue to do what she needs to do and have the energy to do that."
But despite the hard days or changing goals, Shakira's routine hasn't changed much over the years. When we spoke with Kaiser in 2018, Shakira's workouts looked pretty similar, with strength and cardio intervals, plenty of dance, and a little bit of treadmill work.
Some sort of stability is key when it comes to fitness — even if, unlike Shakira, you love to switch up the actual workouts you do, and the only thing that stays the same in your routine is that you're moving your body.
"The main thing we're focusing on is consistency," Kaiser told POPSUGAR in 2018. "As long as [Shakira] continues with that four to five days a week for maintenance, she's good."
Considering she's still going strong years later, we'd consider that a big success.
Get Shakira's Actual Routines
If you're curious about what Kaiser's training style is like, she offers similar classes via her fitness platform Anna Kaiser Studios. Classes are available through 30-day training packages ($35), a streaming membership ($125 a month and up), and in-person at the studio's New York City-area locations. Take a Sculpt or Dance class, and you'll be doing the same type of workout she powers through with Shakira.
Image Source: Getty / NBC / Contributor