Products You May Like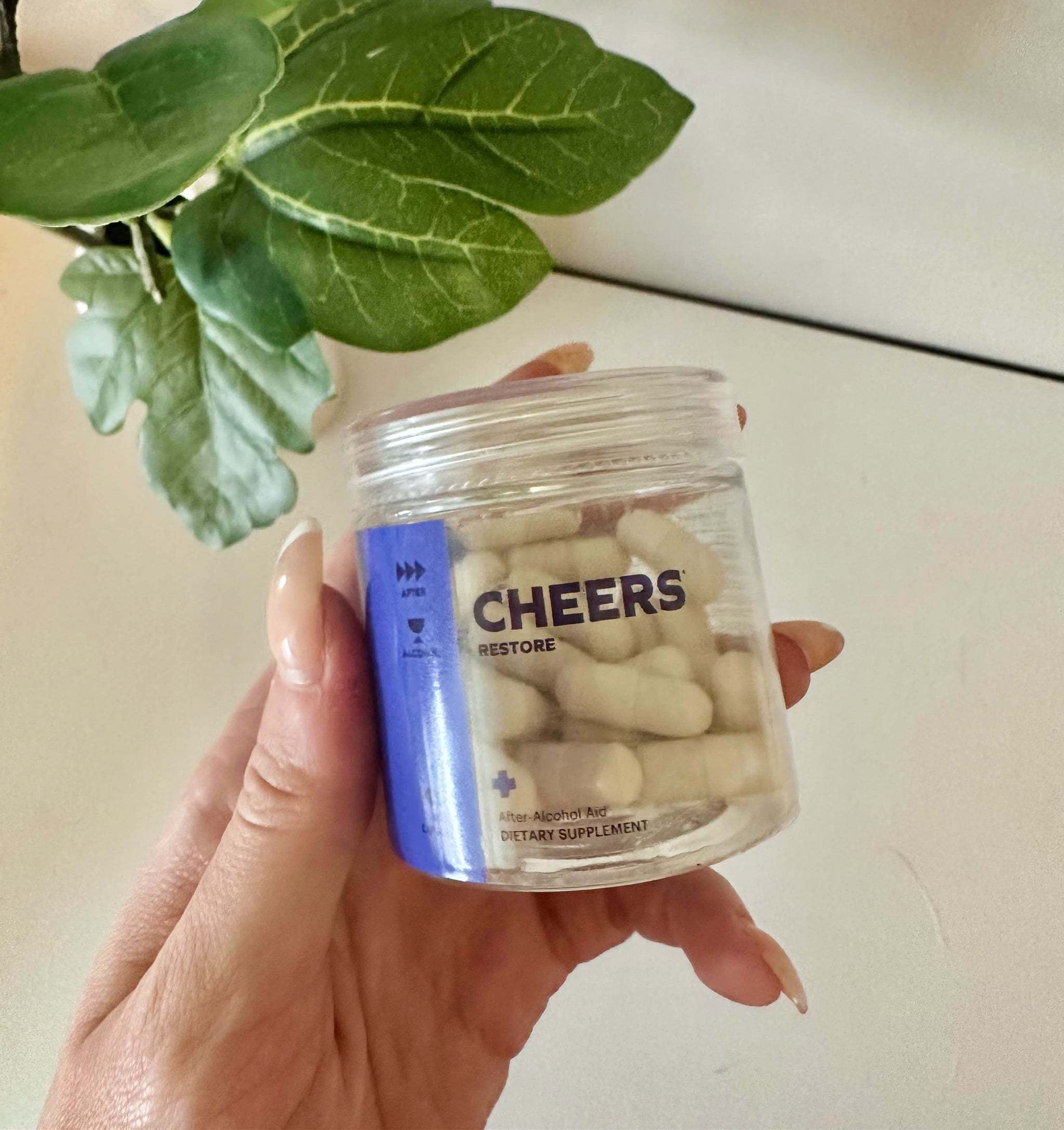 For a while, I was convinced that a memorable bachelorette party required the inevitable hangover. So when I nonchalantly threw the Cheers Restore Supplements ($35), a wellness gift I had received months back, I didn't expect them to make any difference in preventing the impending headache. Little did I know, I was in for a surprise. Without delving into excruciating specifics about my beverage choices, it's safe to say that I indulged in many libations on the first night of my three-day stay in Palm Springs. However, just before heading to bed, I took three capsules of the aforementioned supplements with a glass of water. The following morning, bridesmaid after bridesmaid cautiously asked, "How are you feeling?" and I was taken aback to respond with complete honesty: "Totally fine." Ahead, I break down my experience taking them, along with everything you should know before placing an order, too.
What I Love About the Cheers Restore Supplements
Maybe it's evident from the title of this article, but what truly impresses me about the Cheers Restore Supplements is their unwavering ability to ward off hangovers. I faithfully took them each night before bed during my bachelorette trip, and to the amusement of my friends, I seemed to wake up each morning even more refreshed than the previous day.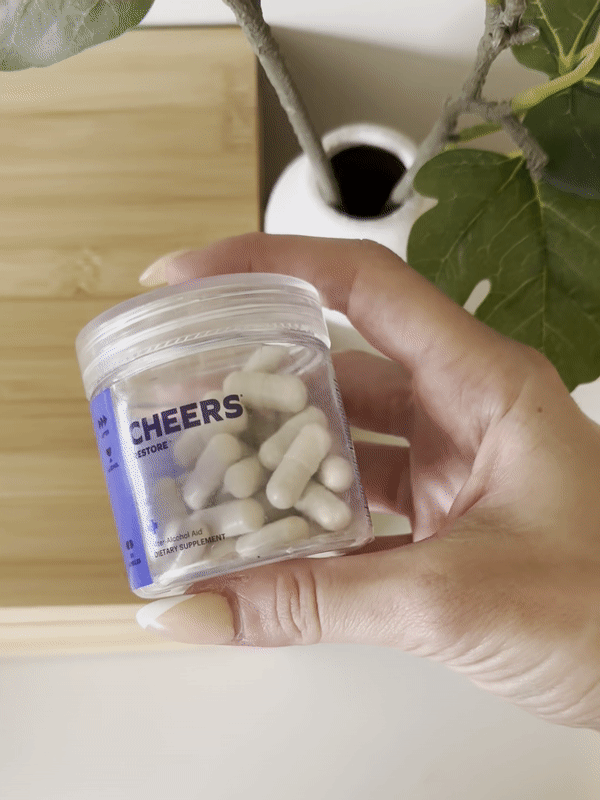 What's Worth Noting About the Cheers Restore Supplements
What's worth noting about the Cheers Restore supplements is that they're not a "guaranteed cure for a hangover," says Tanya Mezher, MS, RDN, CDN, a functional practitioner with Malla.
For a brief lesson in hangovers, the expert explains they're "caused by a variety of factors, including dehydration, inflammation, and the buildup of toxic byproducts from alcohol metabolism. And though there's no official cure, some of its ingredients have "been scientifically studied for their potential to alleviate symptoms or mitigate the effects associated with alcohol consumption." Here's a full ingredient breakdown: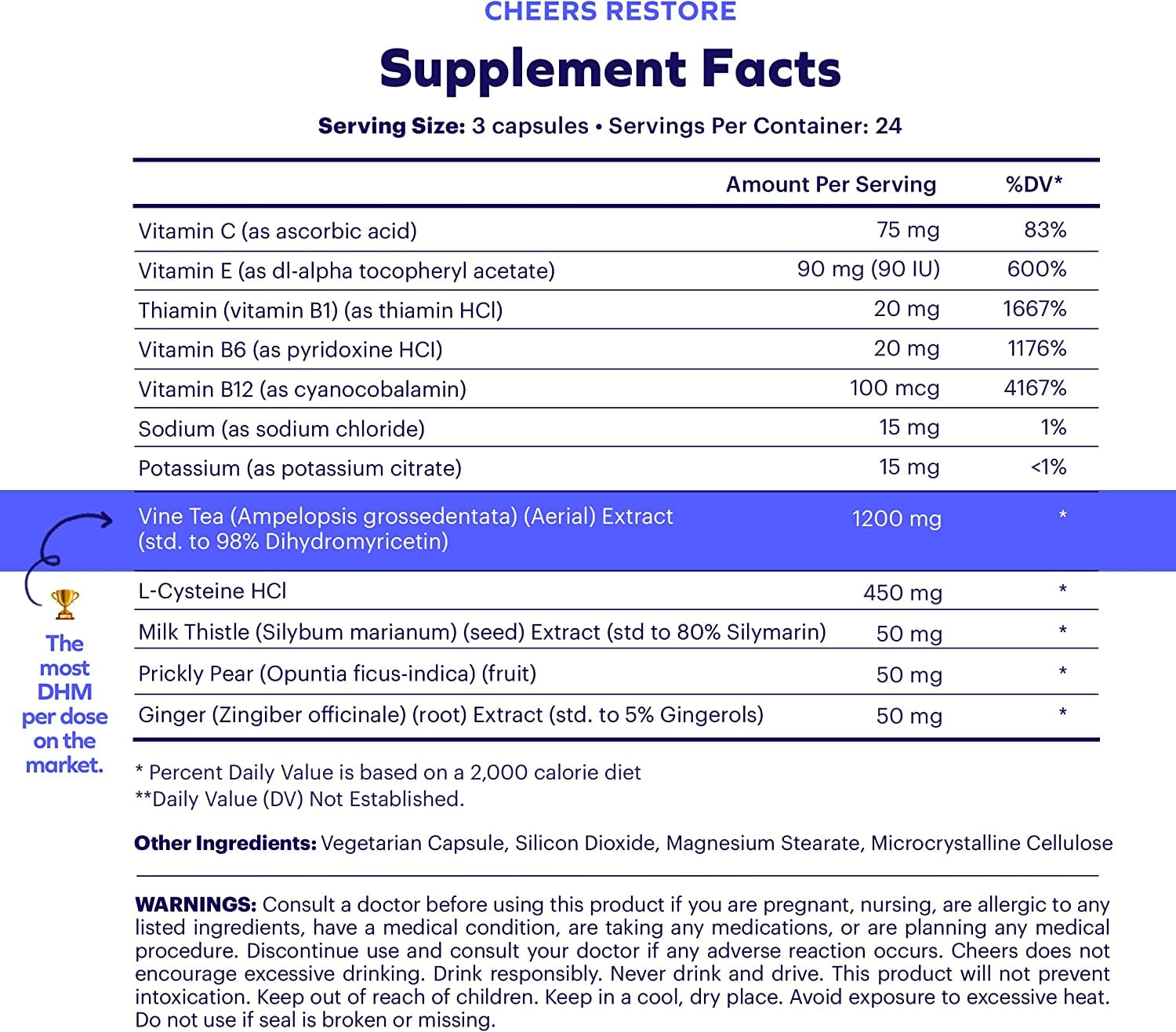 One of the ingredients Mezher suggests is dihydromyricetin (DHM), which Cheers has dubbed the hero ingredient in this product. She explains that it's "a natural flavonoid compound found in the leaves of Ampelopsis grossedentata, a plant commonly known as vine tea or Oriental raisin tree that's been used for centuries in traditional Chinese medicine."
She adds that it's "been found to enhance the activity of alcohol-metabolizing enzymes, such as alcohol dehydrogenase and acetaldehyde dehydrogenase," and that "this could potentially help the body process alcohol more efficiently and reduce the accumulation of acetaldehyde, a toxic byproduct of alcohol metabolism." (Of note, though, the pro flags that 'most of the research on DHM and alcohol has only been conducted on animals," not humans.)
Here are more ingredients featured in the Cheers Restore supplements, with Mezher's insight on how each might quell your hangover symptoms:
Electrolytes: "Replenishing electrolytes, such as sodium, potassium and magnesium, which may be lost through increased urination and sweating while drinking alcohol, may help with rehydration."
Ginger: "Ginger has been traditionally used to treat nausea and has shown some promise in relieving symptoms of nausea associated with hangovers."
Prickly Pear Extract: "A few studies have suggested that taking prickly pear extract before consuming alcohol may help reduce the severity of hangover symptoms. It may help to alleviate inflammation and oxidative stress caused by alcohol."
Milk Thistle: "Milk thistle contains a flavonoid complex known as silymarin, known for its liver supportive benefits. It has been researched for its liver protective effects due to its antioxidant and anti-inflammatory properties, which may help mitigate the effects of alcohol-induced damage. It may also support detoxification by enhancing the activity of enzymes involved in detoxification pathways."
B-vitamins: "Alcohol consumption can deplete B-vitamins, and so supplementing with B-vitamins may help alleviate some hangover symptoms. However, the evidence is mixed, and more research is needed."
L-Cysteine: "L-Cysteine is an amino acid that can be made endogenously and also consumed from foods high in protein. In addition to its other roles, it's a precursor to the antioxidant glutathione and also involved in the liver's detoxification processes."
While Mezher acknowledges that individual ingredients are recognized for their potential to promote overall liver health and metabolism, she doesn't deem it an official hangover cure or preventive measure. Crucially though, she adds that "it couldn't hurt to consume these liver-supporting ingredients — there do not seem to be any general negative side effects or consequences to their consumption."
Who Are the Cheers Restore Supplements on Amazon For?
The Cheers Restore supplements are ideal for those prone to experiencing hangovers and who want to prevent them. While I advocate for responsible drinking, occasional hangovers are inevitable — at least for me. These supplements gave me the energy boost necessary to replace the long nap I usually have to take the next day.
Additional Details About the Cheers Restore Supplements on Amazon:
Each pack contains 36 supplements or 12 servings per pack.
You can also buy them in a two-pack ($65) or a three-pack ($95), saving you $5 and $10, respectively.
If you want to level up the benefits, the brand recommends teaming these supplements with the Cheers Hydrate Oral Rehydration Solution ($19).
Image Source: POPSUGAR Photography / Marisa Petrarca