Products You May Like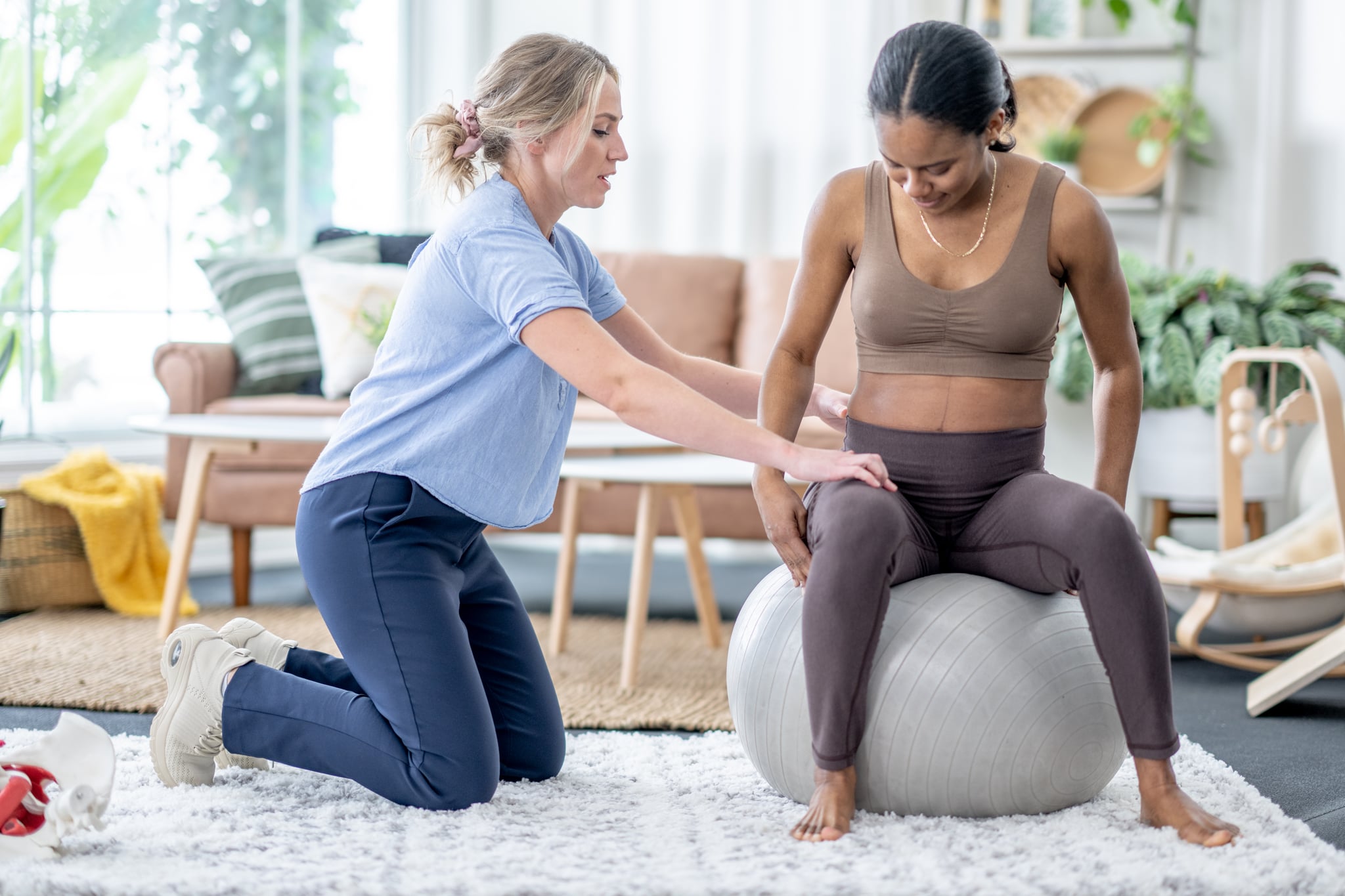 If you spend time on social media, there's a good chance you've encountered the term pelvic-floor therapy, or pelvic-floor physical therapy. This specialized form of physical therapy has been growing in popularity over the years, especially in online parenting circles and on social platforms like TikTok and Instagram, with parents discussing their personal experiences with using pelvic-floor physical therapy postpartum and therapists sharing their expertise.
But . . . what is pelvic-floor physical therapy, exactly? Does everyone need it? What's it used for? And what does physical therapy for the pelvic floor involve — are you stretching your hips, or is it something closer to kegels? With thousands of videos on TikTok and Instagram hashtagged #pelvicfloortherapy and #pelvicfloor, there's a lot of information to sift through, but it can be hard to know what's research-backed fact and what's not.
If you've been curious about pelvic-floor physical therapy and wondering if it's something you may benefit from, this 101 is a great place to start. Experts explain what pelvic-floor therapy is, what it can be used for, what exercises it typically entails, and how to find a good pelvic-floor therapist.
What Is Pelvic-Floor Therapy?
"Pelvic-floor physical therapy is a type of physical therapy specializing around conditions related to the lower back and pelvis, specifically the pelvic floor," says Juliana Galante-Wiegman, DPT, a pelvic-health specialist and the founder of Pacer Physical Therapy.
The pelvic floor is an intricate network of muscles and connective tissues that support your pelvic organs, including your bladder, uterus, and rectum. When they're weak, tight, or otherwise dysfunctional, it can cause a cascade of wide-ranging problems, from painful sex to constipation. That's where pelvic-floor physical therapy comes in. It's a specialized physical-therapy program designed to rehabilitate weak, tight, or spastic pelvic-floor muscles.
What Is Pelvic-Floor Physical Therapy Used For?
Pelvic-floor therapy can benefit people of all genders and help treat various symptoms and discomforts. This includes "symptoms of urinary or fecal incontinence, pelvic pain, tailbone pain, painful intercourse, abdominal pain, constipation, menstrual pain, anal pain, painful urination, testicular pain, and hip pain," Galante-Wiegman tells POPSUGAR.
One common use is for postpartum rehabilitation. Pregnancy and childbirth puts significant strain on the pelvic floor and can lead to vulvar and vaginal changes. According to a 2021 study of 2,007 people, almost half "suffered from [pelvic-floor-disorder]-related symptoms with important consequences on quality of life," including bladder, bowel, and sexual dysfunction issues, reports the International Journal of Gynecology & Obstetrics.
But many of the symptoms can be helped by pelvic-floor physical therapy, Galante-Wiegman says. These include pelvic pain, pudendal-nerve pain, diastasis recti, incontinence, and symptoms associated with perineal tears or pelvic-organ prolapse.
Who Should See a Pelvic-Floor Therapist Postpartum?
Many people would benefit from pelvic-floor physical therapy postpartum. In fact, The New York Times reports that in France, most people visit a pelvic-floor therapist after having a baby.
There's a reason it's so popular: it works. A 2019 review published in the journal Current Opinion in Obstetrics and Gynecology reported that pelvic-floor physical therapy has "clear benefits" and can "improve or cure most pelvic floor disorders" when used as a first-line treatment option for pelvic-floor disorders.
Of course, not every postpartum issue can be totally solved by PFPT. But Galante-Wiegman believes that most everyone could be helped, to some degree, by pelvic-floor therapy following pregnancy. "Due to changes during pregnancy, all pregnant people can benefit from education on posture when carrying or lifting baby, posture when feeding to decrease the risk of pain, and education on the steps you can take to heal your body — and prevent injuries or pain in the future."
What Are Pelvic-Floor Therapy Exercises?
OK, so pelvic-floor therapy is good. But what is it, exactly?
Given the varied issues that can come from pelvic-floor dysfunction, the exact exercises vary for each person, according to Galante-Wiegman. Kegels are one example, and it can be much more effective to do these with the guidance of a therapist than on your own at home (since many people perform them incorrectly).
Other examples of pelvic-floor therapy exercises include hypopressive exercises, which combine different postures with a specific breathing technique and are meant to improve pelvic-floor muscle tone. Pelvic-floor therapy may also involve activating certain ab muscles, which can then activate pelvic-floor muscles, and biofeedback, which helps therapists monitor your actual pelvic-floor muscle activity.
Depending on why you see a therapist, you might work on several areas at once. If you visit one postpartum, your program might include "a core program to improve strength in your abdominal from weakness due to pregnancy-related changes," Galante-Wiegman says. "This can also include strengthening or stretching techniques to your lower back and pelvis to aid in decreasing or eliminating risk for pelvic-floor dysfunction."
She also shares that "manual therapy techniques, both internally and externally," could be a treatment recommendation. In plain English: sometimes, certified pelvic-floor therapists will reach through the vagina and/or anus in order to better reach and massage pelvic-floor muscles, which is sometimes called internal pelvic-floor physical therapy. This isn't always super comfortable, but this can be a game changer for symptoms, especially those caused by tightness or an imbalance in the pelvic-floor muscles. (Of course, make sure your therapist is board-certified and reputable; and you can always opt out of this particular type of treatment if you'd like.)
But something as simple as certain deep-breathing exercises can be a form of pelvic-floor therapy, Galante-Wiegman says. Yes, really. Your abdominal and pelvic-floor muscles are meant to lengthen as we inhale, and if they don't — because they're weakened from pregnancy and childbirth, for instance — the pelvic-floor muscles can tighten up. "Over time, this can contribute to a number of different changes in our posture, core, and pelvic floor," Hayley Kava, PT, previously told POPSUGAR. Deep-breathing exercises allow your diaphragm (your major breathing muscle) "to function appropriately and interact with the pelvic floor and core the way it did perinatally" to avoid such issues, Galante-Wiegman explains.
How Can You Find a Good Pelvic-Floor Therapist?
To find a pelvic-floor therapist, first, it's important to understand the credentials listed after a therapist's name. These letters explain the qualifications and specialty of the therapist:
PT: a licensed physical therapist who's graduated from an accredited physical therapist program and passed an exam.
MPT, MSPT: Masters of Physical Therapy, a therapist who's earned a master's degree from an accredited program.
DPT: Doctor of Physical Therapy, a therapist who has earned a clinical doctorate from an accredited program.
Following that, the next letters listed point to the physical therapists' specialty and additional training. For example, a pelvic floor physical therapist might have the credentials PRPC, which stands for "Pelvic Rehabilitation Practitioner Certification."
"Many PFPTs have extended certifications through Herman & Wallace or the Academy of the American Physical Therapy Association," Galante-Wiegman notes.
To receive the PRPC certification, "all applicants must have completed 2,000 licensed hours of direct pelvic patient care in the past eight years, 500 of which must have been completed in the last two years," Herman & Wallace's website explains. And after those hours are met, applications would be eligible to sit for the exam for full accreditation.
Now that you know what to look for in a potential pelvic-floor therapist, finding a physical therapist with these credentials can be done in a few ways. First, you can request a referral through your primary care physician or an OB/GYN recommendation. Additionally, you can search the Academy of the American Physical Therapy Association's Pelvic Health Division website, which lists certified therapists only
One last note: In many cases, insurance will cover PFPT, especially if your coverage already has a provision for physical therapy. However, it's important to check with your insurance, as an out-of-pocket session could run you approximately $255 for the initial session and approximately $180 for every additional session thereafter.