Products You May Like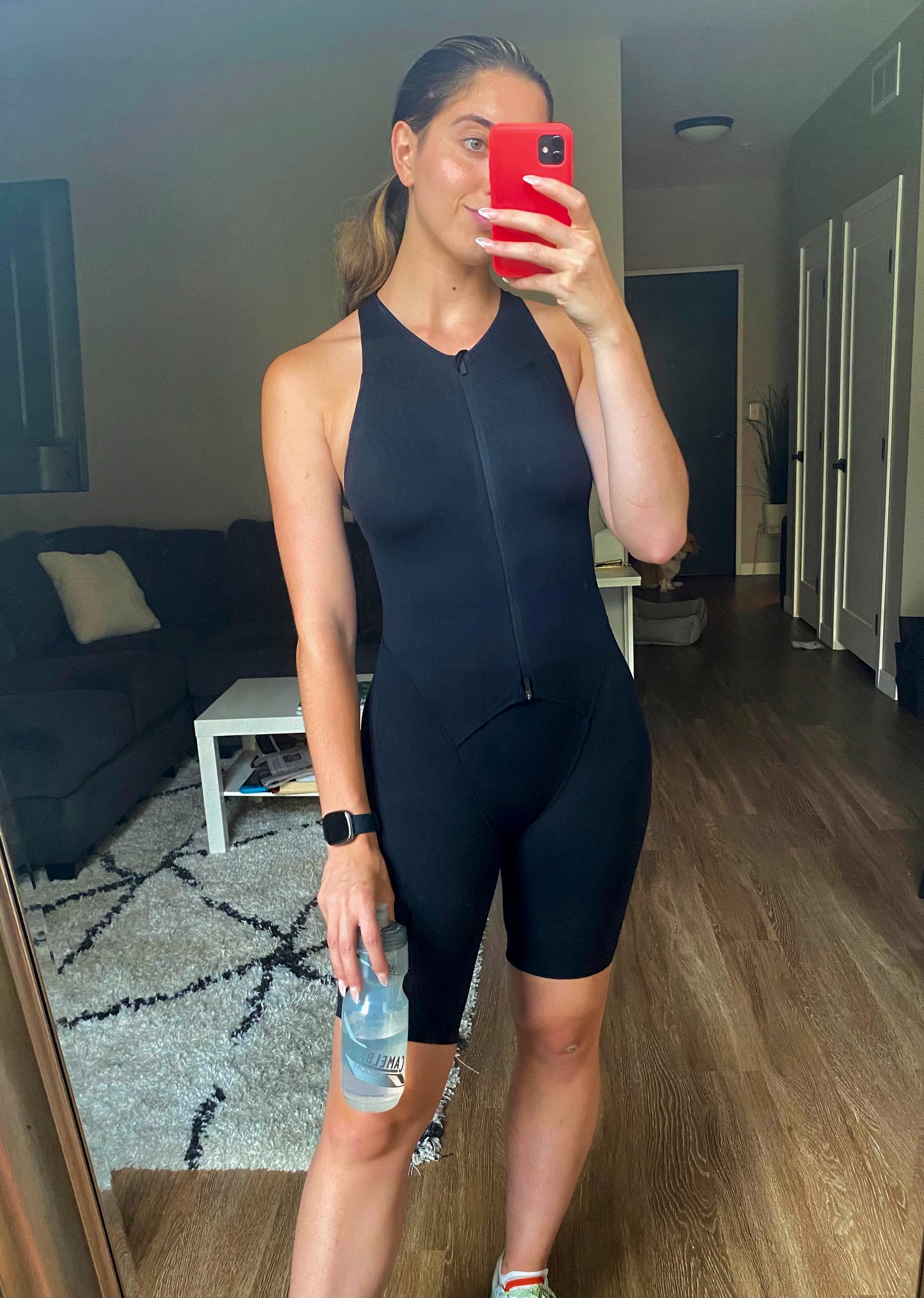 Hi! Marathoner-in-training here. As someone who has *quite* a long way to go before I set off on the Staten Island bridge at the 2022 New York City Marathon, I've been pretty generous about treating myself to special activewear as a little motivator, if you will. One of my favorite things to purchase is one-piece styles, which not only make getting ready to work out easy but also don't distract you by riding up or rolling down while you exercise. That said, I've been on a mission to find the most comfortable and functional option for marathon training. My quest led me to Lululemon's new arrivals page and the SenseKnit Running One-Piece ($198), which, in theory, checked off all of my boxes. The website marketed it as tight and body-contouring but breathable, sweat wicking, and long, with shorts that extend eight inches. I was sold on every detail, so I decided to take the plunge, adding my usual size six to cart. Check out my complete review ahead.
What I Like About This Running Onesie
Initially, my only hesitation in adding it to my shopping cart was that this onesie looks legit, like something a pro runner would slip into for a race worthy of the evening news. As someone who's just barely coming in at under nine minutes a mile, I feared that I'd look and feel like a fraud in this. But once I slipped it on, my fears were expelled. I knew I would want to live in it, let alone just wear it running. It really, truly feels like a second skin thanks to its ultra-stretchy combination of 75 percent nylon and 25 percent elastane. And when I run in it, the sleek, compressive material stays in place and keeps me focused, so I don't have to keep messing with them while running like I sometimes have to do with leggings.
Another thing I love is this one-piece's long length. I tend to gravitate towards leggings over running shorts because I hate the feeling of my legs rubbing together. But this length lands right above my knee, so I can save my full-length running tights for the fall and winter.
What's Worth Noting
My one and only complaint about this onesie is that none of its pockets are really ideal for holding a phone. It features a large pocket in the back, gel pockets at the chest, and a hidden pocket at the front waist, all of which are super convenient for small items like my ID, energy gels, and keys. Other than that, I have a feeling you'll be obsessed, too. After all, the reviews on Lululemon's section are similar to mine. One person who purchased a size 10 said: "I have tried pretty much all of the bodysuits that Lululemon has put out in the past few years. This is, by far, the best for my body type.
"Usually, I have issues in the bust area because I have a larger chest for my height but being able to leave the chest area unzipped is perfect."
Who Is This Running Onesie Best For?
This running one-piece is a must for runners of all skill levels. I regret being hesitant about buying it at all because — not to sound corny — it makes me look and feel stronger. And since running is such a mental sport, I'm convinced it's helped me maintain a quick mile pace. Now all I need is a second one because I've been washing and wearing it on repeat.
This one-piece comes in sizes 0-20.
This running one-piece comes in black and a purple color called "Charged Indigo."
To keep it in optimal shape, machine wash in cold water and tumble dry on a low setting.
The brand's SenseKnit fabric comes in other silhouettes, too, like the SenseKnit Running Tank Top ($54, originally $78) and the SenseKnit Running High-Rise Short 10″ ($108).
Rating:
Image Source: POPSUGAR Photography / Marisa Petrarca