Products You May Like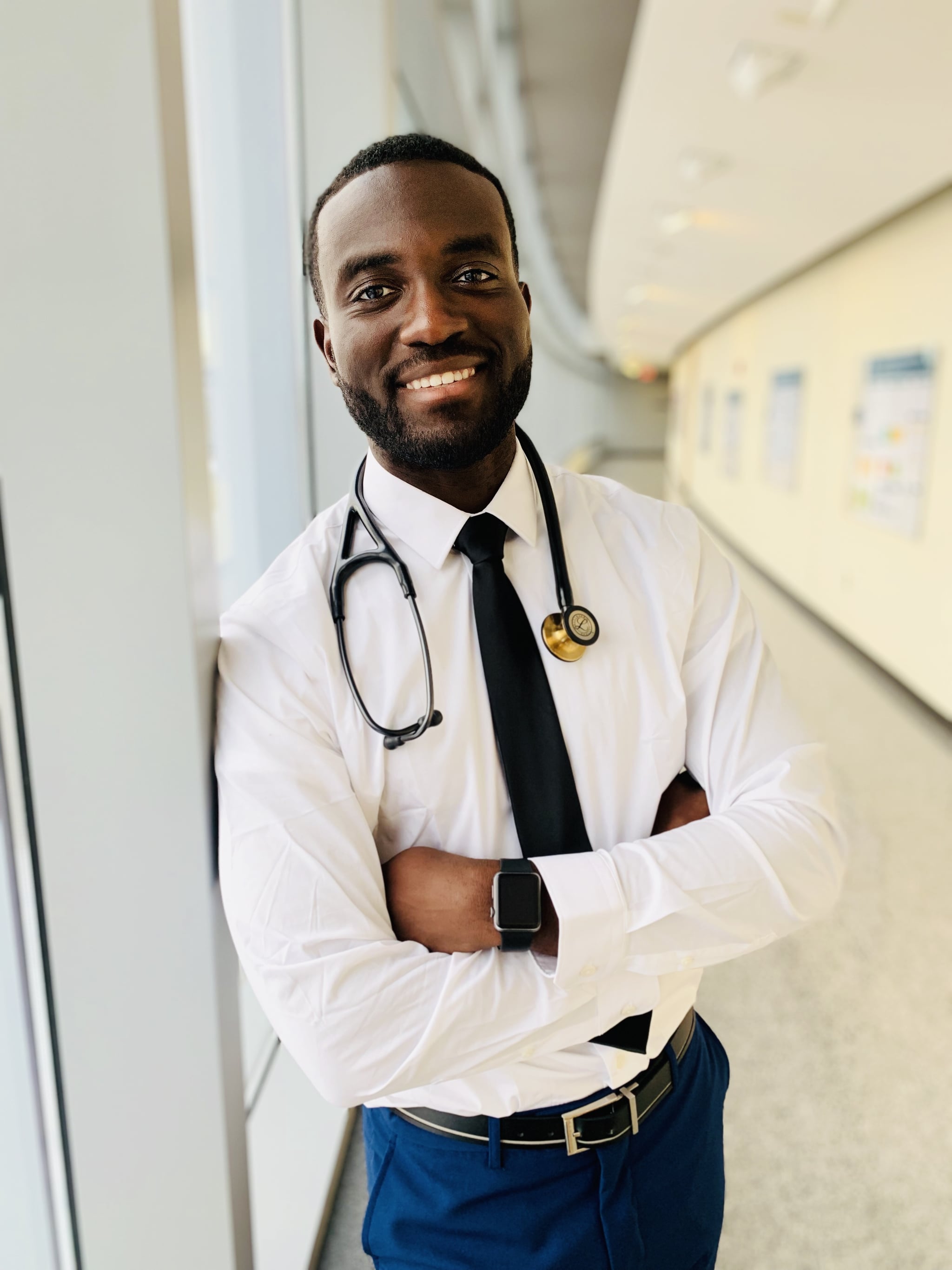 TikTok boasts more than one billion users globally and publishes some of the most helpful content on social media, whether you're looking for a new workout to lose weight or learning about lesser-known symptoms of depression. One TikTok creator that has really gained a loyal following is Kojo Sarfo, DNP, known as @dr.kojosarfo on TikTok. He shares informational content on mental illness and taking care of your mental health, and while Dr. Kojo said he started creating TikToks as a way to kill time, "it just kind of took off." That's an understatement: he's racked up more than 1.8 million followers and gotten more than 39 million likes on the platform.
Dr. Kojo created informational TikToks on a range of mental health conditions such as social anxiety, eating disorders, depression, and ADHD. POPSUGAR spoke with Dr. Kojo about his experience studying mental health, working with patients, and spreading not only knowledge but also joy on social media.
How Dr. Kojo Got Started in Treating Mental Health
Dr. Kojo got his RN degree when he was 20, and soon after got work in a psychiatric facility in Augusta, Georgia. Although he was apprehensive about the job at first, he said he soon liked working with psych patients. "I would spend a lot of time outside with the patients," he told POPSUGAR. "In second shift, I would spend time with the doctors and the psychiatrists and the therapists and the social workers and the charge nurses, and I began to understand that world."
He realized the world inside a psychiatric facility is so different from the outside world, and as he started to learn more, he went back to school to get his doctor of nursing practice degree. "After I got my degree, on TikTok, I tried to illustrate what that would look like for those who had no idea," he said. "I was using humor and music and dance [to help] a lot of people see that world in a good light."
While discussions of mental health and mental illness can often be dark and depressing, people with a mental illness also have a sense of humor. Using upbeat music, fun dancing, and graphics can help share information in a way that's not only entertaining, but also more accessible. It's also important that Dr. Kojo is using his clinical experience as an expert to share his insight and facts, since so much content on social media can be clouded with misinformation and shared by people who aren't credible.
One of the biggest topics Dr. Kojo covers in his TikToks is ADHD. He's shared videos revealing signs of ADHD that might not be as well known, how ADHD shows up in women, and tips on how to manage ADHD. According to the National Institutes of Health, about 4.4 percent of adults have been diagnosed with ADHD, and it's more prevalent in men than women.
However, Dr. Kojo said there is some diagnostic disparities between boys and girls when it comes to ADHD; he explained that boys are often diagnosed with ADHD at a young age because they display the symptoms of hyperactivity, where as girls typically have other symptoms such as being inattentive, disorganized, or anxious. In fact, there is limited research on ADHD in girls and women, and boys get diagnosed as kids while girls have to often wait until they are adults to get an official diagnosis.
As you progress into adulthood, Dr. Kojo said this can show up as self-medicating out of frustration, not being able to keep a job, cutting people off in conversations, having trouble in relationships, and symptoms of depression and anxiety. Dr. Kojo often uses the #ADHDinWomen hashtag on his TikToks to reach more women and provide insight. "It's not going to be equal because you might try and point it more toward a female audience, but I think it's equitable because women aren't as likely to get the help," he said. "That's my way to trying to bring some sort of balance."
If a TikTok on a certain mental health condition such as ADHD has resonated with you, Dr. Kojo said it's important to seek out the help of a medical professional such as a psychiatrist or primary care physician to get diagnosed and treated. "It's very important, whether you have ADHD or not, if that's the catalyst that allows you to get up and get checked . . . then my work online, my goal has been accomplished," he said.
How Dr. Kojo Is Continuing to Spread Happiness
Dr. Kojo has already informed millions and spread happiness through his TikTok videos, especially with a series of original raps about mental health called "Happiness Looks Good on You." Now, he's expanded into the music video realm with the help of his brother, known as Dattkidrob, after they recorded the full song for Spotify and Apple Music. Dr. Kojo has given POPSUGAR the exclusive to premiere the official "Happiness Looks Good on You" music video below.
Be sure to follow Dr. Kojo on TikTok for fun, educational videos on ADHD and other mental health conditions, self-care, and how to manage stress and anxiety.
Image Source: Kwame Sarfo