Products You May Like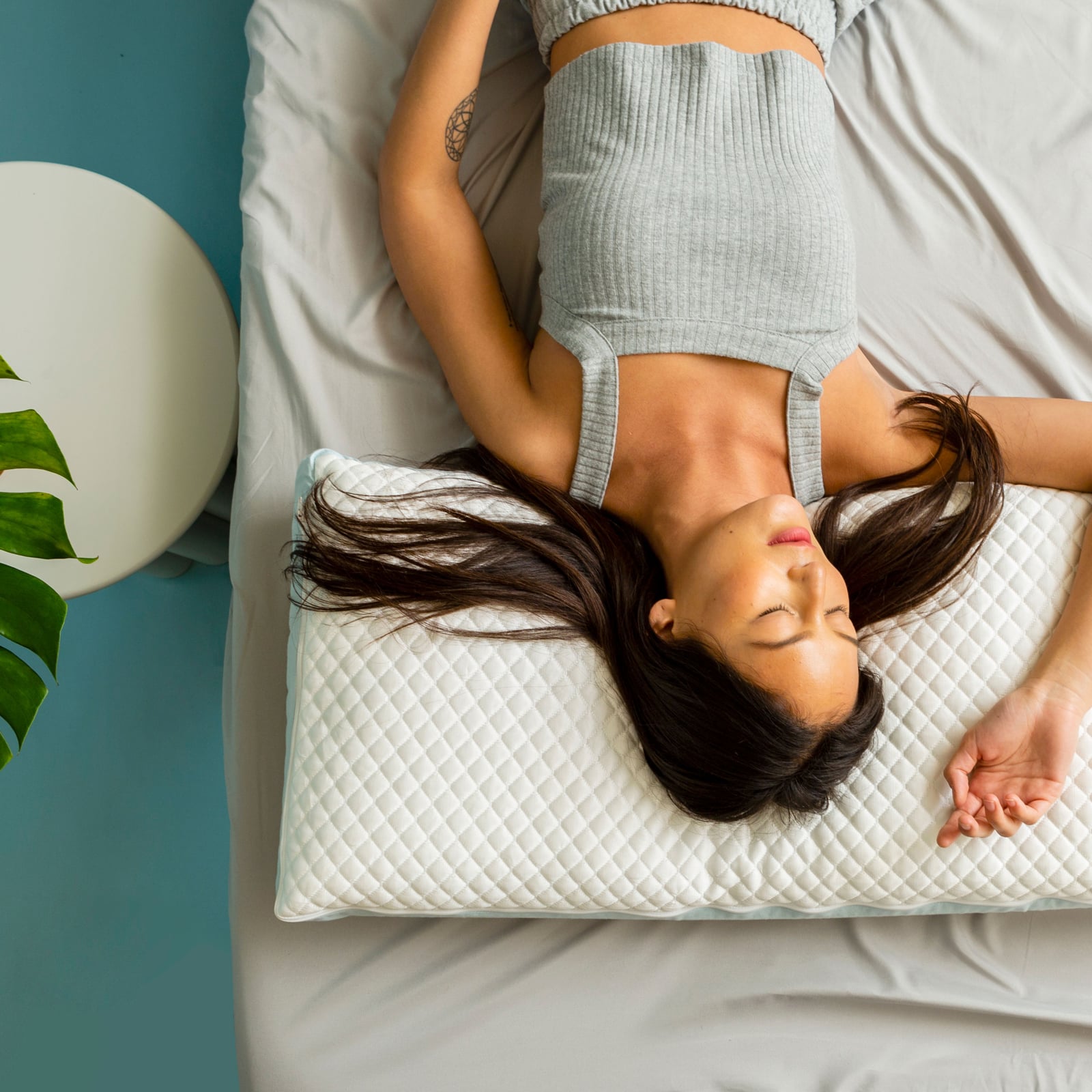 I have usually been a pretty good sleeper. I tend to fall asleep easily, sleep through the night, and wake up refreshed. That is, until the pandemic turned our lives upside down, which resulted in me dealing with bouts of extreme anxiety. To make matters worse, my old pillows were more than five years old — this is not ideal since the Sleep Foundation recommends replacing your pillows every one to two years.
When I moved into my new apartment this summer, I vowed to make my bedroom a comfortable sanctuary to get the best sleep. This included investing in nice sheets and bedding, having an essential oil diffuser by my bed to diffuse relaxing blends, and upgrading my pillows.
I didn't realize how much my old, limp, lumpy pillows had been affecting my sleep until I tried Pluto Pillow ($95). The brand has more than 35 different variations of the Pluto Pillow, and you fill out a questionnaire to get paired with your perfect pillow. In addition to filling out your age, weight, and height, you answer questions about your current pillow, including what material it's made out of, how hard or soft it is, its height, and how satisfied you are with it. You also answer if you get hot while sleeping, what position you settle in when you go to bed, and if you prefer a plushy or more supportive pillow. The questions take only a couple minutes to answer, and you can add a message to your pillow builder if there's anything else you would like in your new pillow.
Do You Need to Sleep With 2 Pluto Pillows?
I wasn't sure if I needed to sleep with one Pluto Pillow or two, so I placed two orders and filled out the questionnaire a little differently: one for a firmer pillow and one for a more plush pillow. When my first pillow arrived, it was exactly what I was looking for in a firmer pillow: medium-height (about three inches), soft, yet supportive, and cooling. I started out just sleeping with the one pillow for a few nights, and it felt supportive, but since I'm used to sleeping with two pillows, I was curious what it would be like to sleep with two Pluto Pillows.
When I slept with two Pluto Pillows, it seemed to be a little too much, and I couldn't quite get comfortable. They propped my head up in a way where my back and neck felt a little strained. I slept just a couple nights with both pillows, and after I switched to only one pillow, I was much more comfortable. My other Pluto Pillow is a little more plush in case I'm in the mood for a more melt-in-the-bed pillow. I sometimes stack both if I'm sitting up in bed to read or watch TV, but I fall asleep with just one.
A representative for Pluto Pillow told me that whether you sleep with one Pluto Pillow or two is a personal choice; some people like the "lift" of two pillows, and some single Pluto Pillows are created to be up to 12 inches thick, which simulates sleeping with at least two pillows. So people can customize their single Pluto Pillow to have the feeling of two pillows, or create two "shorter" pillows to stack, or sleep with one Pluto Pillow stacked on top of one "regular" pillow. Everyone's comfort for sleep is different, which Pluto Pillow recognizes. So long story short — it's totally up to you!
I've noticed a huge difference in how I sleep at night with the Pluto Pillow: I don't wake up as often in the middle of the night, I can find a comfortable position to fall asleep in, and I don't get too hot overnight. Although the brand covered the cost of the pillows for me to test out, I would absolutely buy this on my own because sleep is so important for your overall health and well-being — you spend about one third of your life sleeping!
Pluto Pillow also released its PUFF body pillow ($95). Although this one isn't customizable, the brand says that it's "the galaxy's comfiest body pillow you never knew you wanted." Right now, some custom pillows might be on a shipping delay because of high demand, but I'd say it's worth the wait. A good night's sleep is priceless!