Products You May Like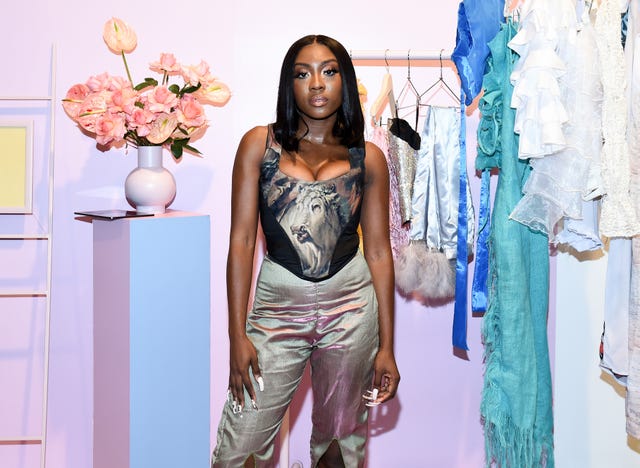 Ilya S. SavenokGetty Images
Like many during lockdown, not being able to travel heavily affected Tia Adeola. The Nigerian-born, London-raised, and New York-based fashion designer is the definition of internationally influenced, so the impact of quarantine—limiting her access to explore new terrain—was a major blow to the driving forces in her creative process.
Her designs ooze in subtle reference notes—ranging from people on the streets of Manhattan to pastels plucked from Marie Antoinette's opulence, a lavishness Adeola aims to rewrite for the masses. Between successful stints on the NYFW runway scene and her signature ruffles exploding on Instagram (you've likely seen her masks that mimic Elizabethan ruffs), her newest collaboration is adding wind beneath her wings: Adeola is checking in with Away.
Known for its sleek suitcases you always see in droves at baggage claim, the travel and lifestyle brand is finally launching its first designer collaboration. For the inaugural collection, Away tapped three New York-based designers: Adeola, Sandy Liang, and Ji Won Choi. "It has been an honor to see how these three astonishingly talented designers infused their personal ethos of style into Away's streamlined design sensibility," said Away CEO and co-founder, Jen Rubio. "The resulting collections are distinct, vivid, and evocative takes on classic Away products."
"I was incredibly excited when Away reached out about this collaboration," Adeola said. "I have been a longtime admirer of the brand and love the fact that it is a female-founded company. It's important to me that I partner with like-minded companies, so teaming up with Away was a no-brainer!" Adeola gave three Away items—a weekender bag, a backpack, and a travel pouch set—her personal touch with feminine tweed details trimmed in her signature ruffles. To put it plainly, her collection, along with the products designed by Liang and Choi, are destined for your next far-flung grid series.
We caught up with Adeola to discuss the collab, her vacation bucket list, and how the best advice she ever received came via a meme, below.
This content is imported from Instagram. You may be able to find the same content in another format, or you may be able to find more information, at their web site.
---
What travel destination is on the top of your list right now?
I don't know what COVID is looking like at the minute, but I really want to go to Brazil. I just love the beach. I feel like I'm happiest there—I have clear thoughts. I was having a conversation with a friend who I travel with quite a lot, and we were like, "Where should we go next?" And he was like, "Let's go to Paris in November." I'm like, "Why would you go to Paris in November?" That's not my vibe. Brazil is at the top of my list.
As someone who travels a lot, which city do you think has the best fashion?
New York, I love you but would have to give it to my previous hometown, London. I'm really big on fit and how clothes fit on the body. And in London, you walk down Oxford Street or Shoreditch and everyone is just dressed so well. I feel like people really wear well-fitted clothes in London and just Europe as a whole, but more so in London. Americans love baggy clothes. Which, hey, I love baggy clothes too, but I'm more of a fitted girl, for sure.
How did the pandemic affect your approach to designing a collection?
I spent it figuring out what I wanted to do, but more so to look after my mental health. I'm someone that's just always working, and not being able to work really took a negative toll on me. But again, I'm not someone that sits around sulking, so eventually, I started making ruffle face masks that did really, really well. And I would hand on my heart say that that carried me and the brand through the pandemic.
I'm sure you get DMs about this all the time, but do you have advice for up-and-coming designers and small business owners?
The first thing I will say before I even open my mouth to give advice is that I'm still learning every day. I still make mistakes every day. I'm still trying to be a better business owner every day. One thing I would say is just keep going. There are days where I feel like everything is going wrong, my production is late, my interns can't show up, and sometimes in those moments you just need to sit with yourself and regroup and just try again the next day.
The second thing I would say is that you can't do it all. If you really want to build something legitimate, you can't do it alone. Having a team is very important. So I would say try to definitely build a team of people that you trust and get your vision.
What's the best piece of advice that you've ever received for your brand?
Creators need time to sit around and do nothing.
That's great, who told you that?
A meme on Instagram.
This content is created and maintained by a third party, and imported onto this page to help users provide their email addresses. You may be able to find more information about this and similar content at piano.io