Products You May Like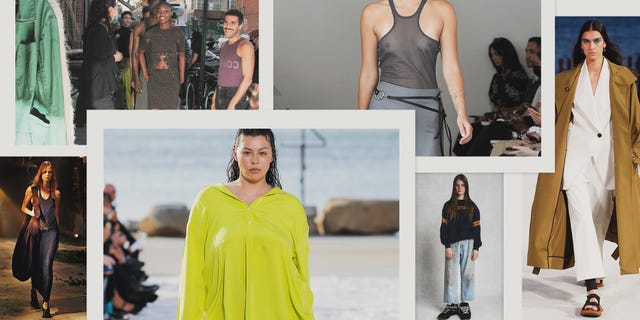 Eckhaus: ROB KULISEK; Khaite: HANNA TVEITE; Do: Victor VIRGILE/Getty Images; MNZ: MADISON VOELKEL; Proenza: Jonas Gustavsson
Style Points is a weekly column about how fashion intersects with the wider world.
It's been a summer of unrepentant body-con looks. Just look at Megan Fox's homage to Rose McGowan at the VMAs. And while that train shows no signs of slowing down, designers at New York Fashion Week came at style from a more sober standpoint.
When you talk about the concept of "sportswear" these days, most people understandably think that means athleisure, which is on its way to becoming our national uniform. While actual sportswear has long felt like it takes a backseat to athleisure, the province of Claire McCardell and Geoffrey Beene has some acolytes among a younger crowd of designers, including some unexpected ones. This season, we didn't see the same profusion of excitable, "let's get dressed up again!" vibes as we did for fall 2021, given the uncertainty caused by the Delta variant. If fashion is currently divided into three modes—bare-it-all Y2K tribute, IRL revelry-ready maximalism, and trusty old loungewear—spring 2022 proposed a new approach: a stripped-down, essentialist take on staples that felt classic without being old-fashioned. Right now, what feels most resonant? Steadfast, simple clothes.
Proenza Schouler and Khaite, both aficionados of this approach, showed two of the strongest lineups of true sportswear. Inspired by a post-lockdown trip to Hawaii, Jack McCollough and Lazaro Hernandez turned out tweaked, slightly-off-kilter-in-a-good-way trenches and trousers that radiated ease. "Buy now, wear forever" can feel like a tired marketing refrain sometimes, but this collection was what we're all looking for in a fashion moment that's grasping for stability: clothes that feel steady enough to ward off the trend cycle and become permanent residents in your wardrobe.
At Khaite, Catherine Holstein set out to create a "definitive New York wardrobe," according to her show notes. She got specific with that mandate: for example, a sequined gown was meant to evoke the beaded curtains at the Four Seasons. The restaurant, where Beene-clad ladies who lunch once mingled, now revitalized for a millennial crowd, felt like the perfect metaphor for her collection. The credo for the lineup of streamlined pieces, paired with supersize carryalls, might as well have been "dress softly and carry a big bag."
In his highly anticipated runway debut, minimalist darling Peter Do favored looks that played with proportion, notably his oversized floor-sweeping blouses. His show notes compared great fashion to the perfect bowl of pho: "reduced and edited, to an essence." It was a great metaphor for the restraint evident in the lineup. If anyone can make "pants and a blouse" seem like a thrilling proposition, it's Do.
Even the downtown cool kids got in on the action, albeit in their own way. Maryam Nassir Zadeh cited credos like "clean," "no fuss" and "core" for her lineup, which had a sportswear nod via a sleek, clean-cut tank and trousers that evoked late-'90's minimalism. And Eckhaus Latta's Mike Eckhaus and Zoe Latta, the masters of upcycled dishevelment, presented their own take on the classic snap cardigan. Naturally, it was deconstructed and unsnapped.
Rising star Eli Russell Linnetz of ERL, currently best-known as the designer behind A$AP Rocky's Met Gala quilt, has found his niche on the casual side of the sportswear coin. He went back to Americana classics like corduroy and collegiate sweaters, making them feel as exciting as a luxury find. It was an important reminder that clothes don't need a lot of bells and whistles to feel covetable.
This content is created and maintained by a third party, and imported onto this page to help users provide their email addresses. You may be able to find more information about this and similar content at piano.io