Products You May Like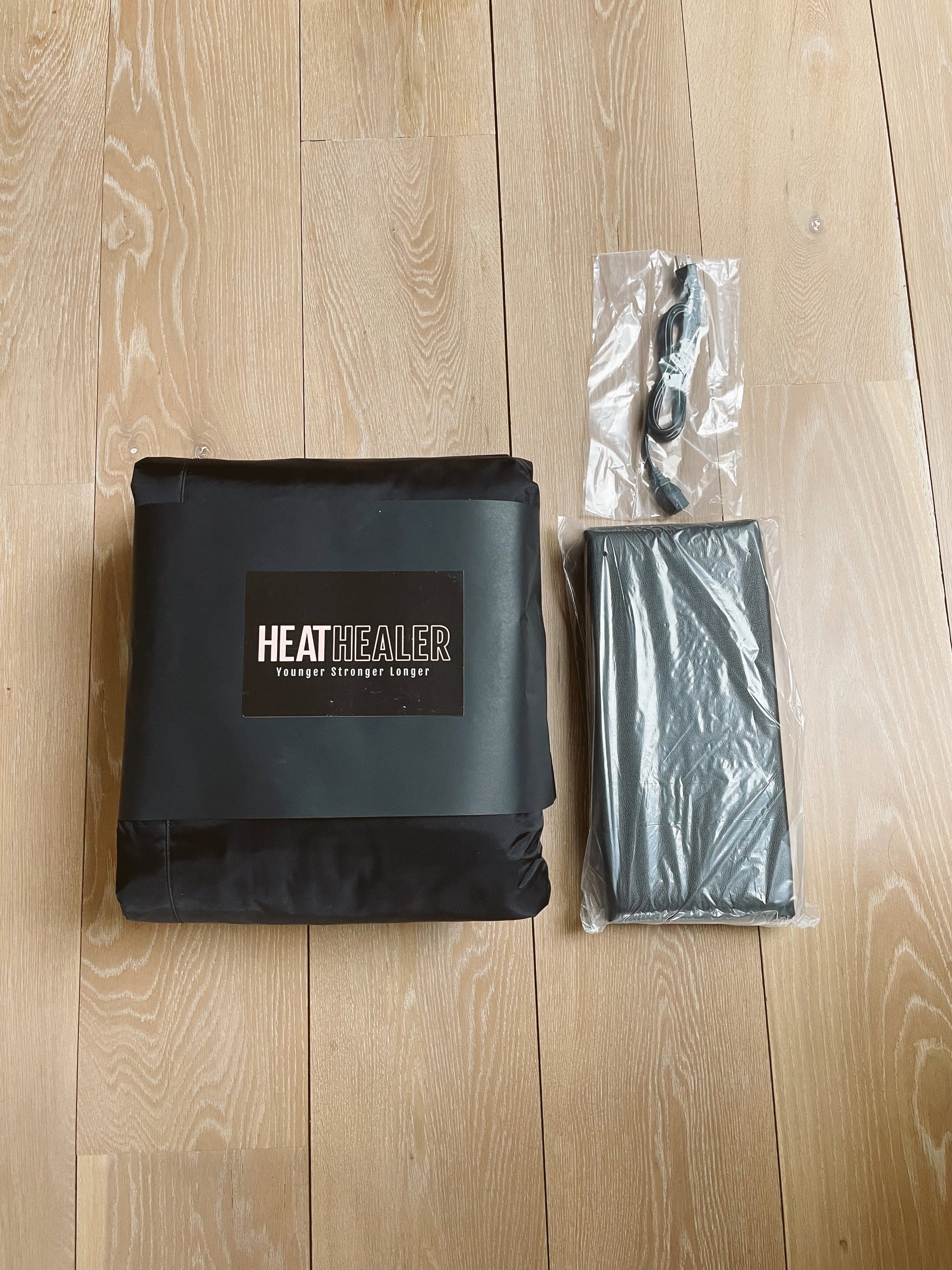 Recently I've noticed that my body just isn't what it used to be. I'm no longer as flexible as I was in my twenties. If I had a dollar for every time I asked my boyfriend to give me a back rub due to neck pain, I could probably afford a live-in massage therapist.
In an effort to alleviate some of my aches and pains (and give my boyfriend a much-needed break), I decided to try out Heat Healer's Infrared Sauna Blanket ($568).
The Heat Healer Infrared Sauna Blanket is an infrared sauna (a sauna that uses infrared rays to heat your body) in the form of a portable blanket. Its interior has a bed of 96 jade and tourmaline stones built-in, which help distribute heat evenly throughout the blanket. It looks and feels similar to a sleeping bag, and the setup is very much the same. Hop in, seal yourself inside, and let the heat work its magic.
Infrared sauna blankets claim to offer pain relief, better sleep, more energy, and help with mood stabilization. I need help with all of those things (plus a few more), so I was excited to see if using a portable infrared sauna really reaped the benefits it claimed.
I have to admit, I wasn't expecting much when I first unboxed the Heat Healer but by the end of my first use I was certainly singing a different tune. My first time using it, I watched an informational video on the brand's website that was extremely helpful and easy to understand. The video led me through the entire set up process, including a reminder to pre-heat the Heat Healer.
After my first use, I found that clean-up was quick and easy. I first made sure to turn off and unplug the power cables. Then I let the Heat Healer cool down for about 15 minutes. Afterward, I wiped down the inside with antibacterial wipes, folded it up, and stored it in my closet.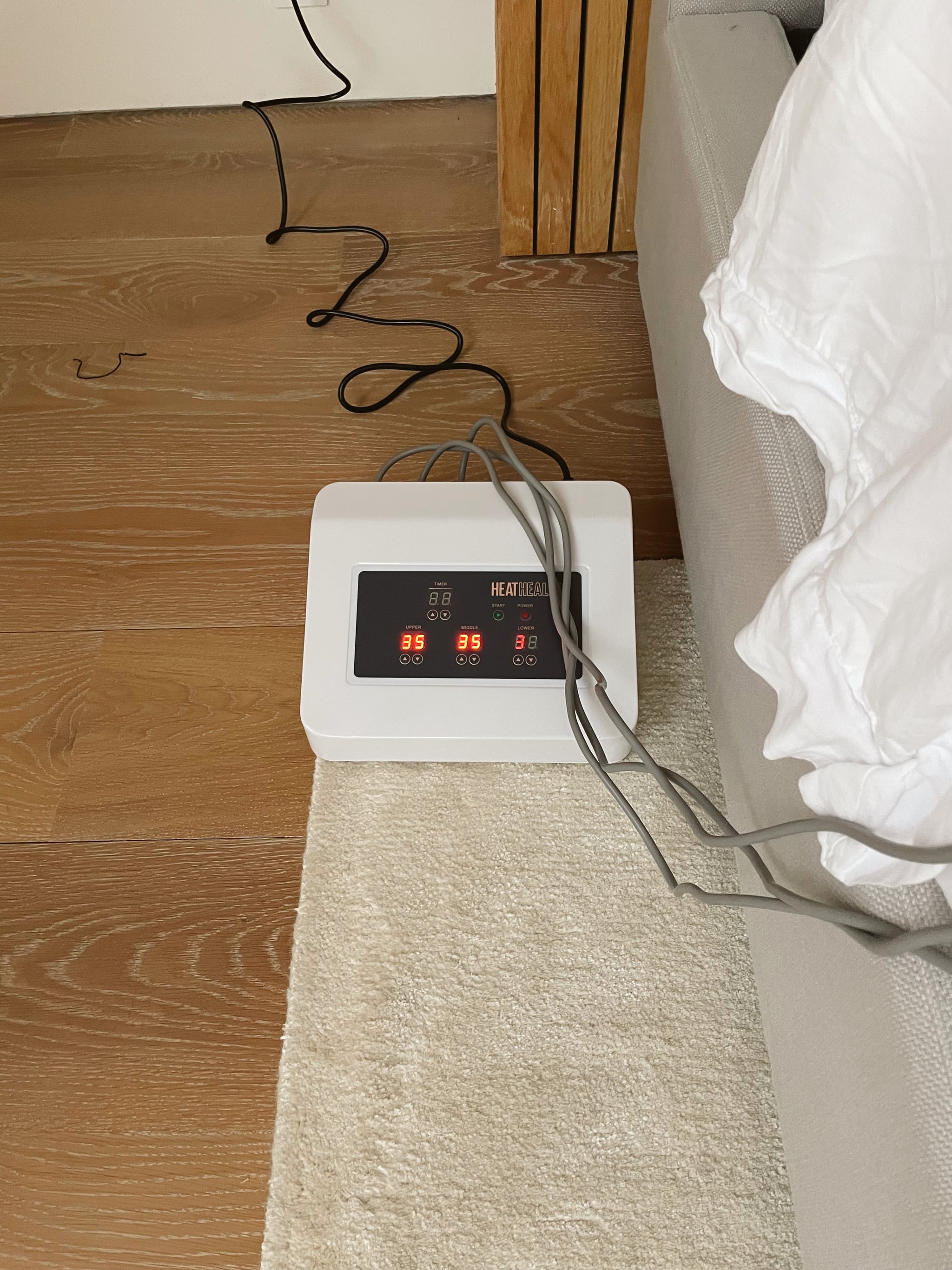 The first time I used the Heat Healer I was on my period, so laying inside what felt like a heated sleeping bag honestly felt like heaven. It relieved so much of my period pain that I would continue using it if only for that benefit alone.
Since then I've continued to use the Heat Healer every other day for the last three weeks. I have to say — I'm completely hooked. At first I needed to keep myself occupied during my sauna time (either with a book or a podcast) but by my fourth use I was able to close my eyes, lay back, and fully relax.
I've honestly felt a noticeable shift in how I'm sleeping at night, and my muscles seem to recover much quicker after tough workouts. My only gripe is that I wish it was came in a travel size small enough to pack in my suitcase because I would absolutely take this everywhere with me if it were possible.
The Heat Healer Infrared Sauna blanket is convenient, high quality, and a product I'm so happy to have stumbled upon — because I can no longer live without it.
Image Source: POPSUGAR Photography / Renee Rodriguez