Products You May Like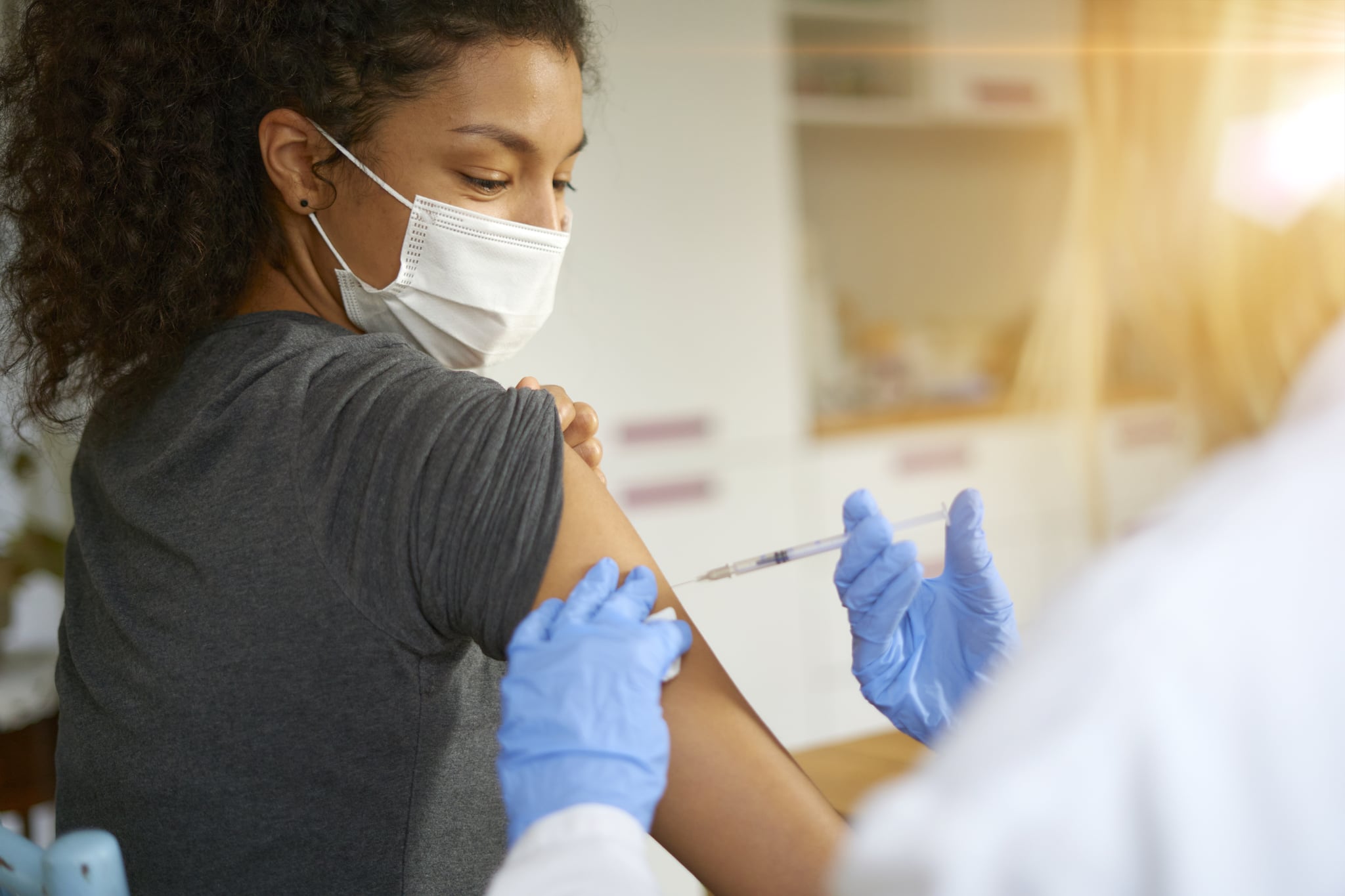 Flu season is rapidly approaching, which means it's time to set up an appointment to get your annual flu shot. Of course, the COVID-19 pandemic is far from over, and due to the highly contagious Delta variant and other mutations, COVID booster shots may also be in many Americans' futures. Although the Centers For Disease Control and Prevention is only recommending booster shots for immunocompromised people at this time, the US Department of Health and Human Services has floated plans to begin offering booster shots to a larger population sometime this fall.
So, what does this mean for the timing of your flu shot? If you've considered putting off the flu vaccine until there's more information about if or when you'll be eligible for a COVID booster, experts say you can rest assured that you don't need to space out the shots. "There's no contrary indication to receiving the influenza (flu) vaccine and COVID-19 vaccine at the same time. It is medically appropriate to do so if that is your choice," William Schaffner, MD, medical director of the National Foundation For Infectious Diseases, told POPSUGAR.
Robert G. Lahita, MD, PhD, director of the Institute For Autoimmune and Rheumatic Disease at Saint Joseph Health and author of Immunity Strong, agreed. "If you're brave, get them together the same week. Your immune system can absolutely handle both at the same time," Dr. Lahita said, adding that you can expect the typical side effects of soreness, aches and pains, and fatigue. Dr. Lahita explained that, if you'd like to space the shots out, you certainly can — but if you make this choice, he recommends getting the booster shot first (if you're eligible) because the COVID virus is more dangerous than the flu.
You may remember that, when the COVID-19 vaccines were first rolled out to the general public, experts recommended not getting any other vaccines within two weeks of the COVID shot. Dr. Schaffner explained that this was done out of an abundance of caution, but health officials no longer feel it's necessary in order to ensure the safety of those receiving the COVID vaccine.
"Of course, we knew a great deal about safety from the clinical trials, but when you start using a vaccine in millions of people in the real world, then other things may crop up," Dr. Schaffner said. "In order to study very carefully the side effect profile of the new COVID vaccines without complicating the data by administering other vaccines at the same time, the initial recommendation was that no other vaccine should be given within two weeks of giving a COVID-19 vaccine. Now that we have more safety data, this recommendation has been rescinded."
Ultimately, the timing is far less important than making sure you get vaccinated. Dr. Schaffner noted that there's an old vaccine adage: A vaccine postponed is often a vaccine never received. "Please, if you are not getting them at the same time, be sure you get both," he said.