Products You May Like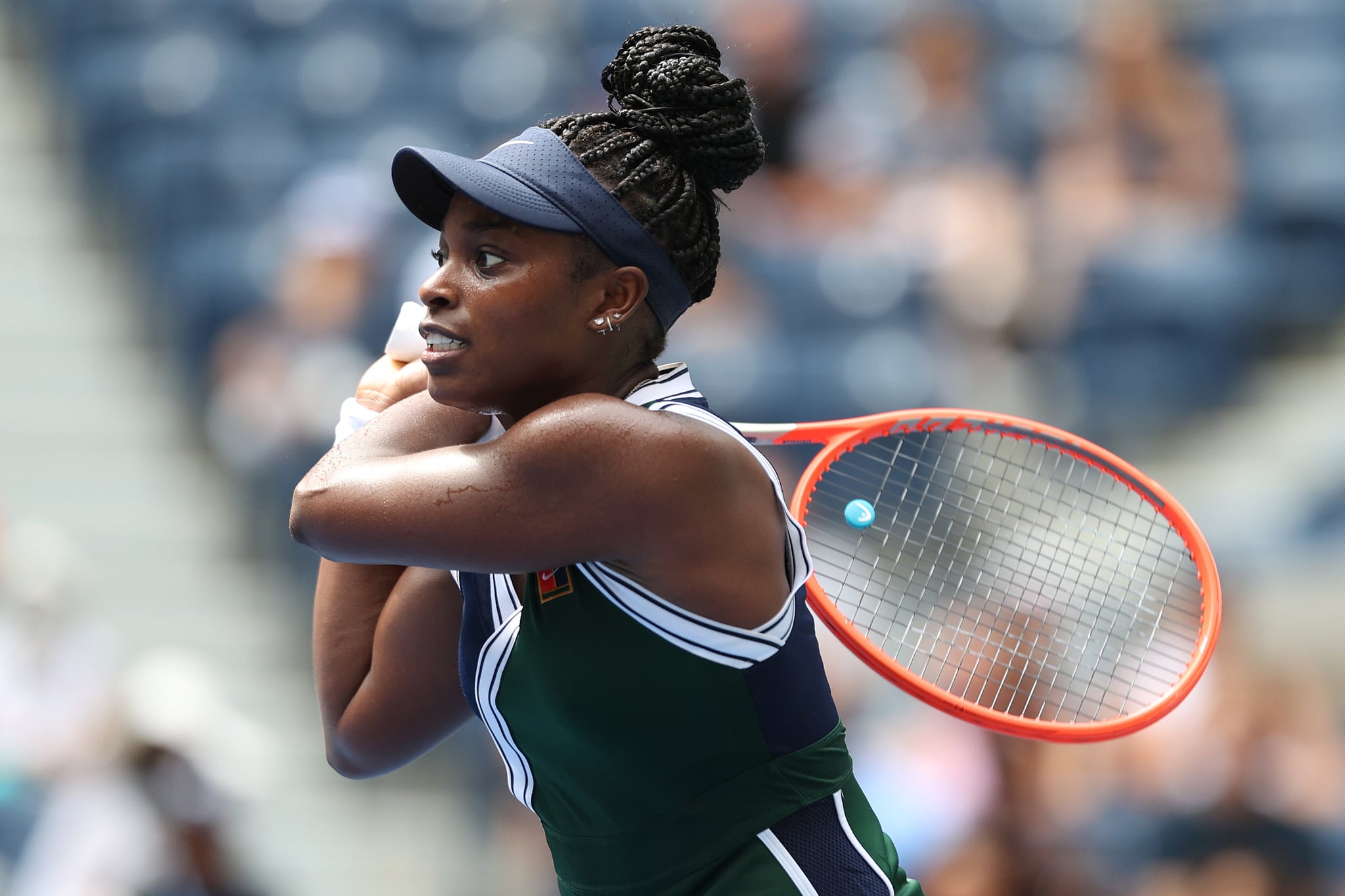 After Sloane Stephens lost her third round US Open match on Sept. 3, she logged on to Instagram to find over two thousand messages of abuse and anger. She typically strives to keep her platform positive, but this time, Stephens spoke out. "I am human," she wrote in an Instagram Story. Though the messages were "hard to read," Stephens said she felt compelled to share some of them so people could see "what it's like after a loss."
The screenshots that followed, themselves captured and saved after Stephens's Story disappeared, featured enraged criticisms of Stephens's on-court play in between graphic racist and misogynistic insults. There were blatant physical threats, warnings that one person would "destroy" Stephens's leg. "I hope you enjoyed your last moments on the court today," they said.
In her Story, Stephens seemed to imply that this is normal for her after a loss. Other Black athletes know the feeling. Soccer players, for example, are a target for racist abuse both online and on the field. English national team players Bukayo Saka, Marcus Rashford, and Jadon Sancho faced an outpouring of hateful messages after missing penalty kicks in the Euro 2020 final this past summer. Basketball and baseball players are targets. So are Olympic champion gymnasts like Gabby Douglas. She's proof that Black athletes are targeted even after big wins; so is US men's national soccer team member Mark McKenzie. Win or lose, doesn't matter. Grand Slams, medals, multiple championships to your name — doesn't matter. If you're a Black athlete who didn't perform up to someone's standard, this is what the "fans" will do.
And while we're on that point, let's make something clear. Messaging athletes for the express purpose of insulting them — no matter how upset, angry, or disappointed you are over their performance — does not make you a passionate fan. It makes you a bully. And an entitled one at that, because let's see you go out there and try to make a penalty kick in the biggest tournament of you life, or try to close out a match against a former world No. 1. Cyberbullying athletes over inevitable shortcomings and failures is absurd when most of us couldn't dream of accomplishing half of what they do on a daily basis. And what's the point? You think don't already feel awful about whatever they did wrong? You think they don't already feel worse than you ever could?
"People use the umbrella of sports fandom as a cover for their hatred, as though one less-than-perfect performance justifies this type of abuse."
When you add in racism, it makes these insults more pointed — and yet, at the same time, chillingly impersonal. These slurs are intended strip Black athletes of their accolades. They're intended as a reminder: that a Black athlete is, ultimately, nothing more than their race, and their race makes them less. It doesn't matter that you've won Grand Slams, played in the World Cup, or stood atop an Olympic podium with the world at your feet.
People use the umbrella of sports fandom as a cover for their hatred, as though one less-than-perfect performance justifies this type of abuse. They can't be given that excuse, not as this pattern continues across sports. I remember watching that Euro 2020 Final, Italy vs. England, looking at the English players who missed their PKs and knowing exactly what was about to happen to them. It felt inevitable, but it's not — it's the result of all of us, anyone who calls themselves a sports fan, allowing toxic, racist behavior to flourish under the guise of fandom. That moment was a wakeup call: we shouldn't expect this type of behavior, because to expect it, to be used to it, is a half-step away from tolerating it.
"I am human," Sloane Stephens said. Meaning: she won't win every match. Meaning: there is a real, breathing person on the receiving end of that racist, misogynistic aggression. Athletes are not robots, they're not perfect, and they're not society's outlet for racism and hatred. A true fan supports their favorite teams and athletes through losses and disappointments. A bully turns on them the moment they falter, using the type of insults they know will cut deepest. Close the app, put down your phone, and ask yourself if you know the difference.