Products You May Like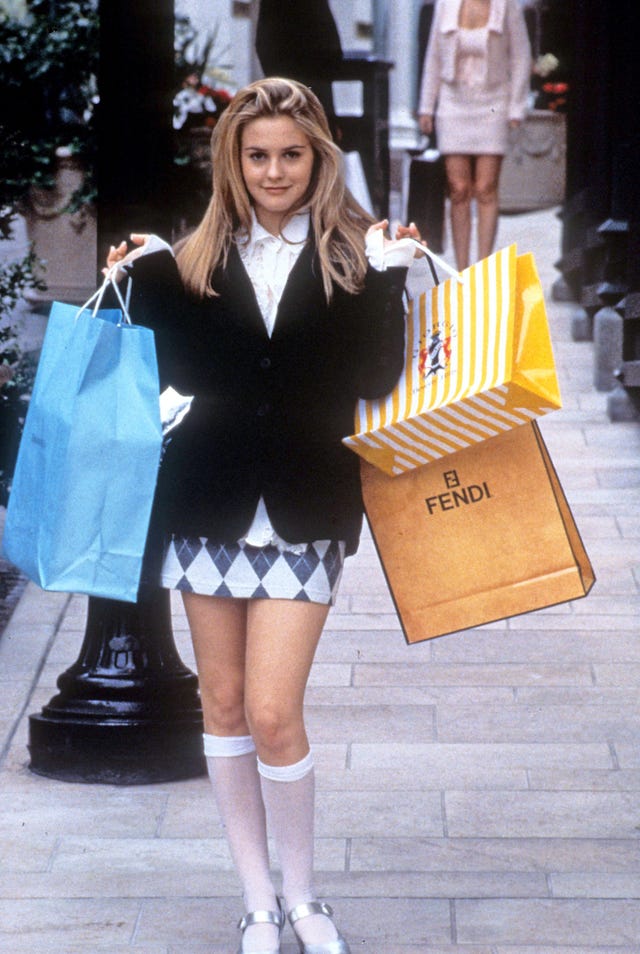 Archive PhotosGetty Images
Every '90s kid with even a passing interest in fashion remembers where they were when Cher's digital closet in Clueless made its onscreen cameo. Like a hoverboard for the Nordstrom Brass Plum set, this technological leap implanted fever dreams in all of us—of an ever-rotating, constantly trackable wardrobe, something a number of ill-fated apps have since attempted to replicate.
While we might not all have our own closet in the cloud these days, the Clueless generation has adapted to a hybrid of rental, resale, and fast fashion. Call it reshuffling: The aspiring Cher Horowitz might buy a bag that strikes her fancy from a site like Rebag, tire of it, trade it in for credit, and lather, rinse, repeat. All the variety of an ever-evolving carousel of choices; less of the potential wastefulness and cost. Project manager Max Weinstein, 25, shops on The RealReal and Heroine using this method, looking for pieces circa the mid-2000s and early 2010s. He sees it as "cross-pollination"; for example, he recently resold a 2007 Lanvin treasure from Heroine to downtown New York vintage emporium James Veloria.
The popularity of clothing rental services, and Instagram's fire hose of content, have helped prime our brains for constant newness. "I am definitely conscious of it from a social media perspective," Weinstein says. "If you wear this [item] again, great, but you're probably not going to be posting more than two different outfits with this one pair of pants."
Savvy retailers have jumped on the bandwagon. Rebag's Infinity program lets shoppers keep a bag for up to a year and then turn it in for 70 to 80 percent of the original price in credit. (Infinity repurchases tripled in the year after its 2019 launch, suggesting many of its customers are engaging in reshuffling.) This summer, it debuted Clair Trade, which allows shoppers to buy and sell in a single transaction. Farfetch, which saw its sales of preowned goods skyrocket from 2019 to 2020, launched Second Life in the U.S. in November, enabling customers to trade in their high-end bags for site credit to shop from new collections. And The RealReal found that its consignors are increasingly opting for credit over cash: This commission method grew 52 percent between June 2020 and June 2021. Often, people are buying from the same labels they are selling. (Gucci, Prada, and Rag & Bone appear on both the top five most-consigned and most-purchased brands of the year.) The only thing technology hasn't caught up to? Cher's override switch meant to avert a potential "mismatch." There are still some things that are best left analog.
This article appears in the September 2021 issue of ELLE.
This content is created and maintained by a third party, and imported onto this page to help users provide their email addresses. You may be able to find more information about this and similar content at piano.io