Products You May Like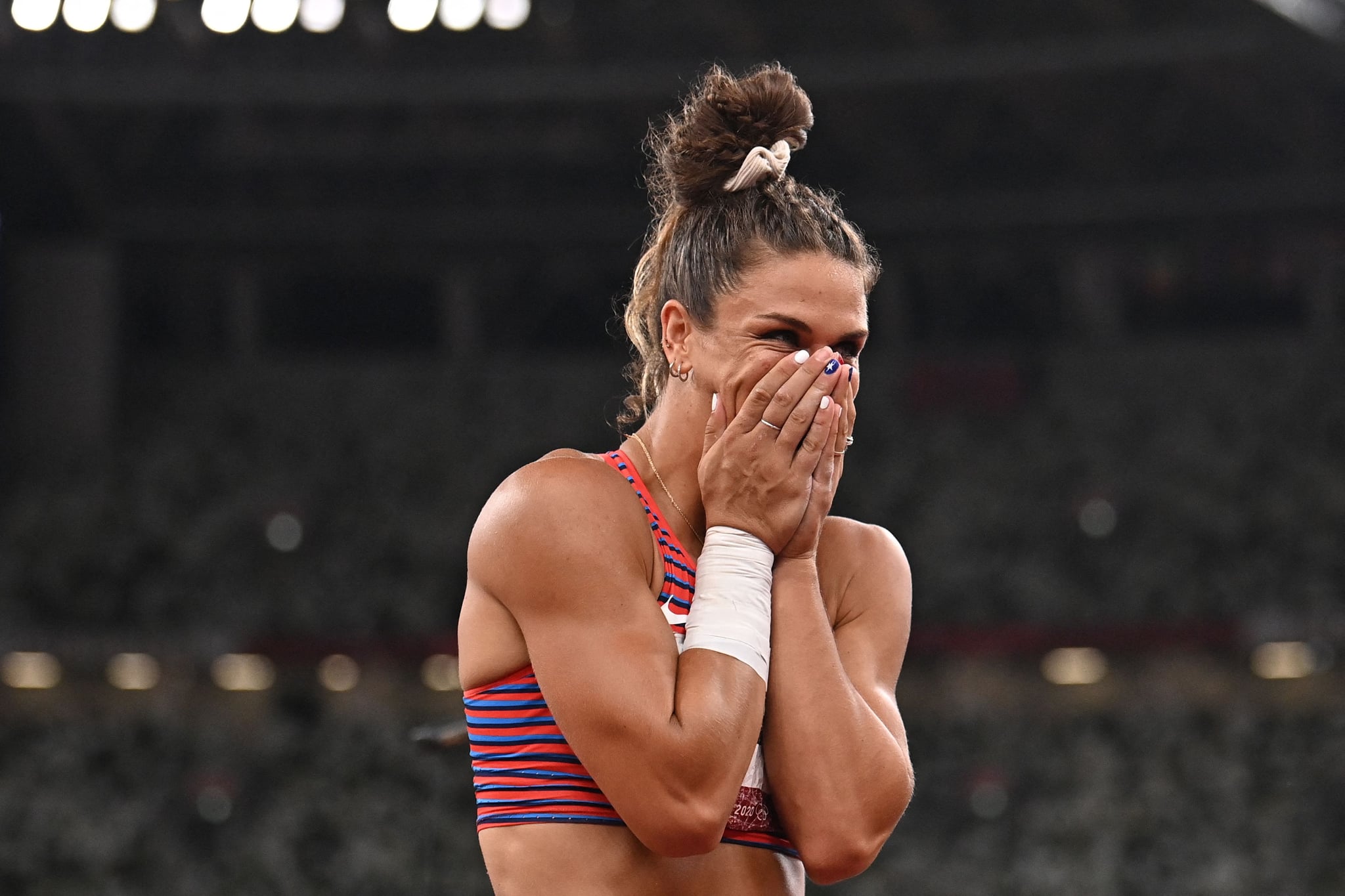 "I am capable of winning. I deserve to win. I will win." These are the three affirmations Valarie Allman stepped into the throwing circle with to prepare for her lead-off attempt, a throw of 68.98 meters that ultimately secured an Olympic discus gold in Tokyo. It marked the United States' first track and field victory of the Games, and Allman, 26, told POPSUGAR that the moment she realized she'd won was "the most validating, emotional happiness."
Allman, who said she's also fortunate enough to be an ASICS athlete, led the competition after that opening throw — her other attempts weren't as far, but it didn't matter — and she noted that she didn't watch fellow competitors take their turns following an anxiety-provoking rain delay. Instead, she simply focused on her coach, Zebulon Sion. "He was watching the last set of throws, and he looked at me and kind of nodded, and it was that final acknowledgement that no one was going to pass and that we'd won," she recalled. "It was really in that moment where I was like, 'Oh my gosh, all of our hard work just materialized into being an Olympic champion.'"
This wasn't the first time Allman used those affirmations. It began as Sion's idea after the Olympic Trials, where she qualified for Tokyo in the top spot, to combat uncertainty and doubt leading into the Games. "The first week of doing it, I felt so silly and unsure," she wrote on Instagram upon claiming the Olympic gold. "The words felt awkward and I didn't believe them. I slowly started to buy into them and speak with genuine conviction. I found myself thinking the phrases to myself randomly throughout the day . . ." Allman further told POPSUGAR that, after saying them for a month, they bolstered her confidence and "helped shape my perspective on realizing that I could be the best of the best when it mattered."
When you're introduced to sports, discus specifically, the physical component of it is critical, Allman said; however, the mental piece becomes more and more crucial the higher you climb on the world stage. "Your mind oftentimes can leave your body, right? You can convince yourself that you are ready, you are exactly where you need to be, but you can also convince yourself the opposite, which is so scary." Simone Biles taught us this in Tokyo.
Allman started discus her freshman year of high school after hearing about a spaghetti dinner the throwers held. Success followed as she earned a handful of All-American honors at Stanford University and finished sixth at the 2016 Olympic Trials. That year was when she realized she wanted to "be relentless in chasing a big dream," she stated. That meant working, as they say, "smarter, not harder," with a revamp of her sleep and recovery schedule, focus on building strength, and re-examination of her throwing technique. So much of her success she credits to her coach; he was able to point her in the right direction. (By the way, she went on to throw an American record in 2020.)
Allman was a dancer growing up, and she reflected that discus — this dynamic, forceful action — is actually a dance in itself, albeit a short one confined to only a second-and-a-half. "It's a set of movements all pieced together that are graceful and balanced but ultimately generate a ton of power," she described, listing three main components: "out of the back," which is how you set up your throw; the "middle" where you create a ton of tension; and the release that requires you to put energy into the discus. Figuring out how to make your arms, legs, and core work in harmony, she explained, takes grace and coordination.
As for what's next, Allman is continuing her course in athletics — her next competition is set for this month in Paris — but she wants to eventually pursue a career using her studies in mechanical engineering. She acknowledged that though discus is a niche sport, it is extremely rewarding. For athletes going into the discipline, her biggest advice is to stick with it. "There's certain elements of the sport that are really natural, but it also takes a lot of repetition. And it's only if you can stick with it and be willing to put in the time that you're going to see the fruits of your labor really pay off."