Products You May Like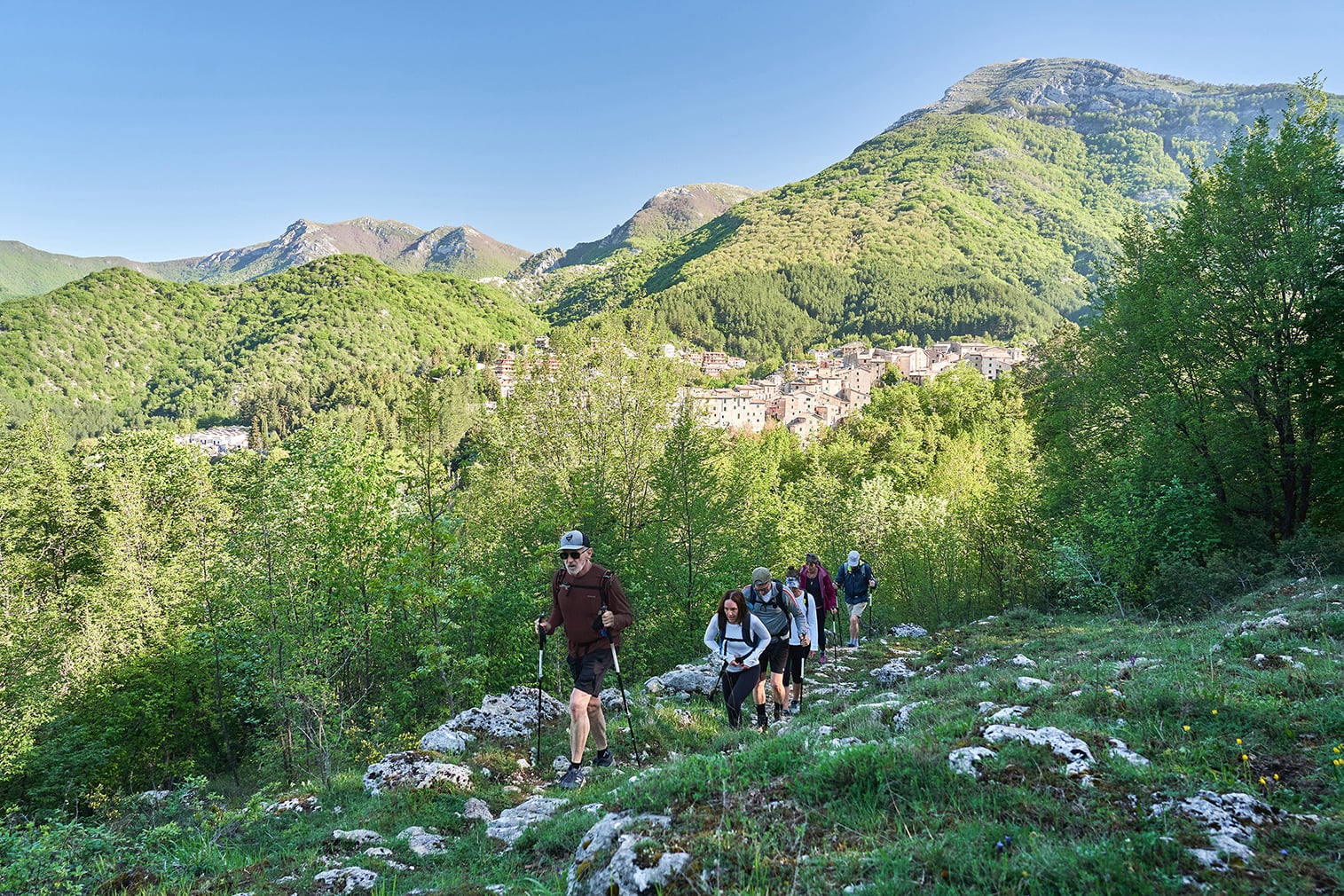 When I first got invited to The Ranch Italy 4.0 retreat, it was late September 2022, about six months before I'd ultimately visit the program. A lot can change in half a year, and for me, it did: by the time I was on a plane heading to Fiuggi, the central Italian city known for its natural springs where The Ranch Italy had set up shop, I wasn't the same person who'd said yes to the immersive four-day hiking and wellness program. For one, I was about 18 weeks pregnant. Still, I was hoping that wouldn't slow me down too much.
If you have any experience with wellness retreats, The Ranch may be a familiar name. The program first began as a weeklong luxury boot camp in Malibu, CA, where guests ditched their phones, hiked for four to five hours a day in the Santa Monica Mountains, then spent the afternoon doing additional fitness and spa sessions, all while eating a fully vegetarian diet.
Since then, The Ranch has expanded upon their original weeklong program, offering different retreat lengths and personalized experiences as well. And more recently, The Ranch has been opening properties in different locations, including Italy in 2022, Vail (coming in fall 2023), and the Hudson Valley (coming in spring 2024).
The Ranch Italy is housed at Palazzo Fiuggi, a world-class wellness medical spa that offers its own personalized programs of medical treatments, spa services, and holistic therapies for guests hoping to improve their well-being. At this location, The Ranch offers a weeklong experience and a newer four-day experience, the latter of which I was invited to join.
I have to admit that, going in, I thought the Italian version of The Ranch curriculum might be more laid back than the Californian origins. But I was wrong. After an early-morning wake-up call and stretch session, each day is centered around a four-hour mountain hike. Local guides accompanied our group on each trail, which ranged from challenging to flat-out you've-got-to-be-kidding-me hard — although because the program emphasizes time on your hiking-boot-clad feet rather than distance traveled, they encourage you to go at your own pace and take as many breaks as needed.
That said, the hike isn't the last time you'll be sweating that day. After getting back to Palazzo Fiuggi and eating lunch, guests also have a strength workout and a yoga class to complete.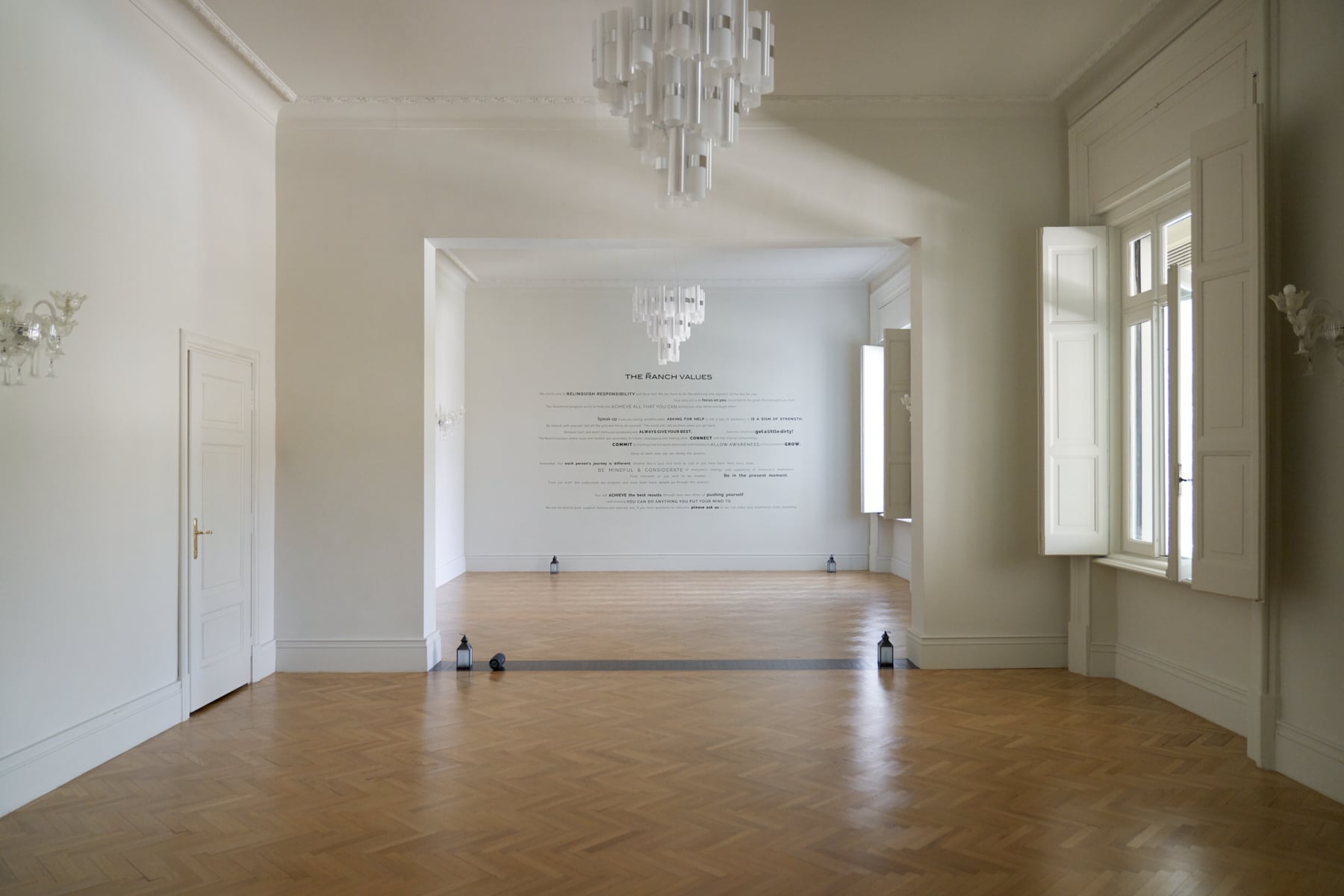 But there is plenty of time for pampering, too — each day includes a sports massage and plenty of time to bum around the Palazzo's unreal Roman spa.
All in all, I often found myself pinching myself during my stay at The Ranch Italy 4.0. The vistas were incredible, the hotel was home to the best spa I'd ever set foot in, and with 16 other guests doing the program with me (each experience is limited to 25, max), the trip felt intimate and bonding.
What I Liked About The Ranch Italy 4.0
Of the 17 guests attending my The Ranch 4.0 long weekend, I was probably one of the least experienced in the world of spas and fitness retreats. Many of the other guests had attended other The Ranch programs, and all had attended other similar resorts and retreats, including The Ashram, another famous(ly intense) wellness program in California. But everyone agreed: the Palazzo Fiuggi was unparalleled.
The property is gorgeous, with views of old Fiuggi (the upper part of the city) and new Fiuggi (the lower, more modern part). It was a medical clinic, several different fitness facilities, and the incredibly impressive, 6,000-square-meter spa with three swimming pools, including healing thalassotherapy (seawater) pools, and (my favorite) a Kniepp pool that lets you alternate walking through water that's pleasantly warm, then ice cold, and somehow made my legs feel 80 percent fresher. And while The Ranch programming keeps guests busy, there's still plenty of time to book additional spa treatments and medical services during the day.
After a long morning spent hiking, relaxing in the property's pools or just sitting in a salt therapy room felt unbelievably restorative, especially when combined with the daily post-workout massage.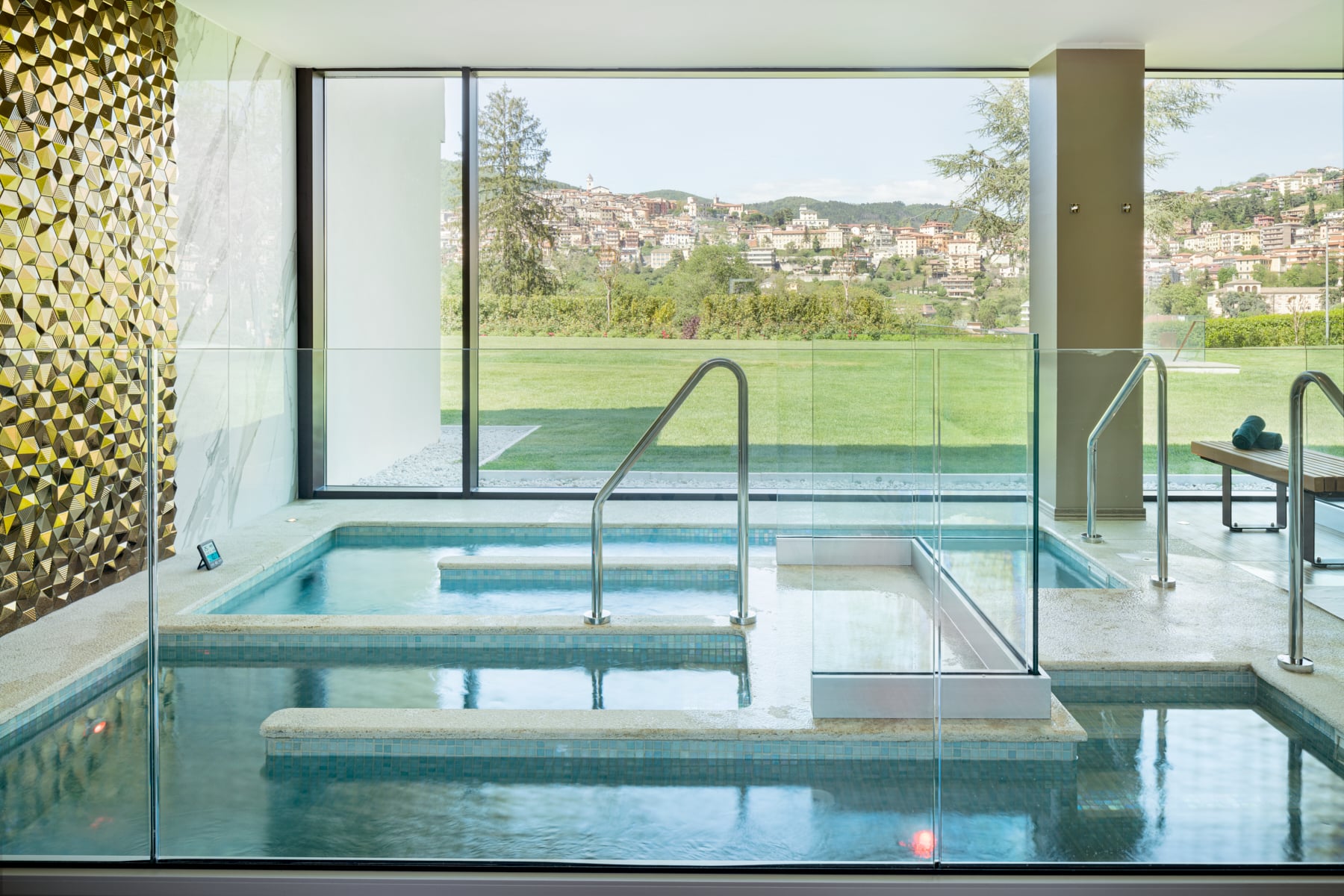 It's also impossible to write about The Ranch Italy program without talking about the hikes, which took up the majority of each morning. Each day, guests are driven to different trailheads, each about 30 minutes from the Palazzo property. The hikes were varied: we scrambled up rocky ascents one day, trekked through forested canopies the next, and on one hike scaled mountain peaks that overlooked ancient monasteries.
Guests are accompanied by local guides who are knowledgeable about the history of each area (and a great guide is an easy way to elevate a vacation). And each trail is well-marked ahead of time, and each guest has their own walkie-talkie, so they can stay in contact, even if they're not with a guide.
The Ranch also means it when they urge you to go at your own pace. At 18 weeks pregnant, I was understandably apprehensive about the hikes. My doctor had cleared me, only suggesting that I take plenty of breaks, drink plenty of water, eat plenty of snacks, and aim to keep my heart rate generally under 140 bpm. (Worth noting: the advice about heart rate in pregnancy is considered outdated by some, but I was happy to play it safe and listen to my OB.) Considering that we were gaining significant elevation on each hike, that meant I was moving slow and sometimes turned around to head back to the cars early.
But I never felt like I was being pressured to speed up. In fact, soon after setting out, guests break off into their own pacing groups, with one guide sticking with the faster-paced groups and another bringing up the caboose.
The other thing I loved about the experience was the small-group aspect. I attended the retreat with my husband, and most of the other guests came in groups of two to four. And while guests have plenty of downtime, they also spend hours together each day, hiking and eating all their meals together.
Given the grueling nature of the experience, it was inherently bonding. Over the four days we were together, we slowly began opening up about why we were doing the trip and what we hoped to get out of it. By the last night, we were all swearing that our group was uniquely amazing — but I can't help but wonder if every group ends up feeling that way by the end of the trip.
What's Worth Noting About The Ranch Italy 4.0
One of the things I love about The Ranch Italy 4.0 is how customizable it is. The Ranch began as a fitness retreat with a pretty big emphasis on weight loss — but the Italian program at least stresses at every turn that the program should be modified for your own goals, whatever they may be: weight loss, muscle gains, better overall health, mental well-being.
That said, the program's origins are still evident. It starts and ends with weigh-ins and measurement taking to see how your body changed over the four-day fitness program, and the menu, which is entirely plant-based and mostly vegan, aims to provide about 1,400 calories a day.
Oh, and there's absolutely no caffeine or alcohol provided on the property — as part of The Ranch program or at Palazzo Fiuggi. Since I was pregnant, this didn't bother me. But I did hear at least one guest say she'd smuggled in some caffeine pills.
The program leaders made it clear that guests could ask for as many additional portions of food as they needed each day, an offer I — and several other guests — took them up on without issue. But for anyone with a history of disordered eating, exercise compulsions, or body image struggles, it might be a difficult program to take part in.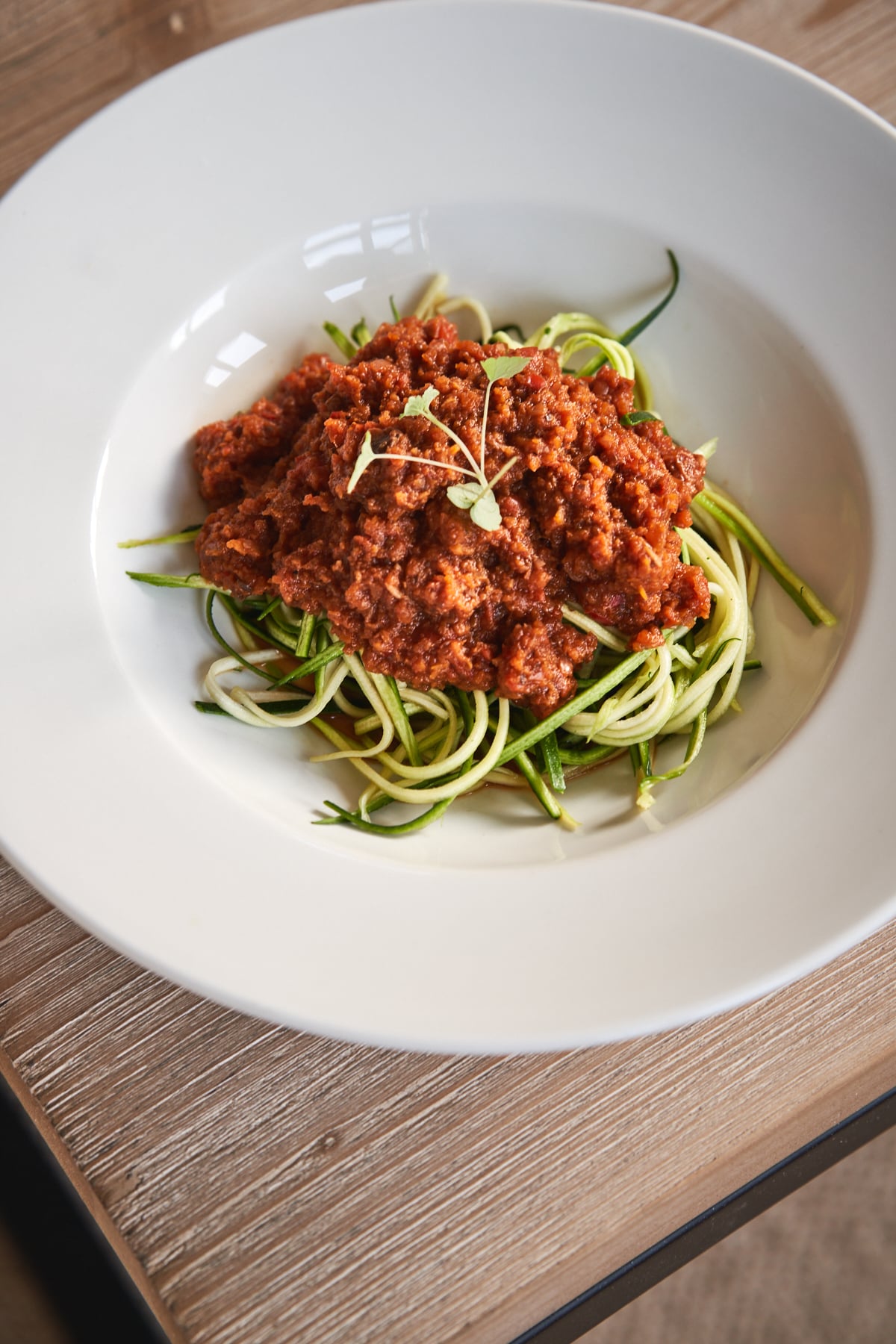 The Ranch Italy also offers a complete blood panel that a doctor will later review with you and make suggestions for improving your health. I skipped this step, but my husband participated and got a thick packet with information and recommendations for several supplements, which he ended up bringing to his regular GP once we were back at home.
While the four-hour hikes might seem like a major barrier to entry, I can honestly say that I don't think they need to be. The program does ask all guests to take a physical and an electrocardiogram upon arrival to ensure they're able to take part in the fitness offerings safely. But the hikes can be as challenging or as chill as you make them, and you're always free to skip a day and hang out around the spa instead if you need some extra rest.
And though the program did ask guests to prepare for the trip by starting to cut back on animal protein, sugar, and caffeine and embark on their own walking-based training program, I personally didn't do any of that (besides cutting the caffeine). I know I wasn't alone, and we all survived just fine.
Who Is The Ranch Italy 4.0 Best For?
The Ranch Italy 4.0 is a great retreat for someone who's looking for a balance between an intense physical challenge and total pampering and relaxation.
It's also a great place for someone who's looking to jump-start a new fitness routine, or needs to make some sort of change in their life. One guest on the trip I attended, for instance, had recently gone through a breakup and quit drinking and smoking and seemed to be using the trip as another opportunity to reset and kick off his new life path.
The Ranch program is full of language about committing to yourself and allowing yourself to grow — perfect for someone who's looking for a vacation that feels like a fresh start.
Is The Ranch Italy 4.0 Worth the Splurge?
The Ranch Italy 4.0 is $4,950-$5,800 for four days and five nights, depending on if you book a double or single room. Can you take a cheaper vacation? Of course. But consider that the rate includes: accommodation, three meals and two snacks a day, daily guided hikes, daily fitness classes, daily yoga classes, a daily massage, diagnostic testing and medical consultations, access to Palazzo Fiuggi's Roman spa, and transportation to the airport. For a luxury wellness retreat, it's not a bad deal.
Additional Details
The Ranch Italy 4.0 offers 4-day retreats every week, starting on Thursdays and finishing on Monday morning, when you head back to the airport.
Transportation: Palazzo Fiuggi is located about 50 minutes outside of Rome. Guests must book their own transportation to the property, although transportation back to the airport is provided as part of The Ranch program.
Rating
Image Source: Martino Dini @HR