Products You May Like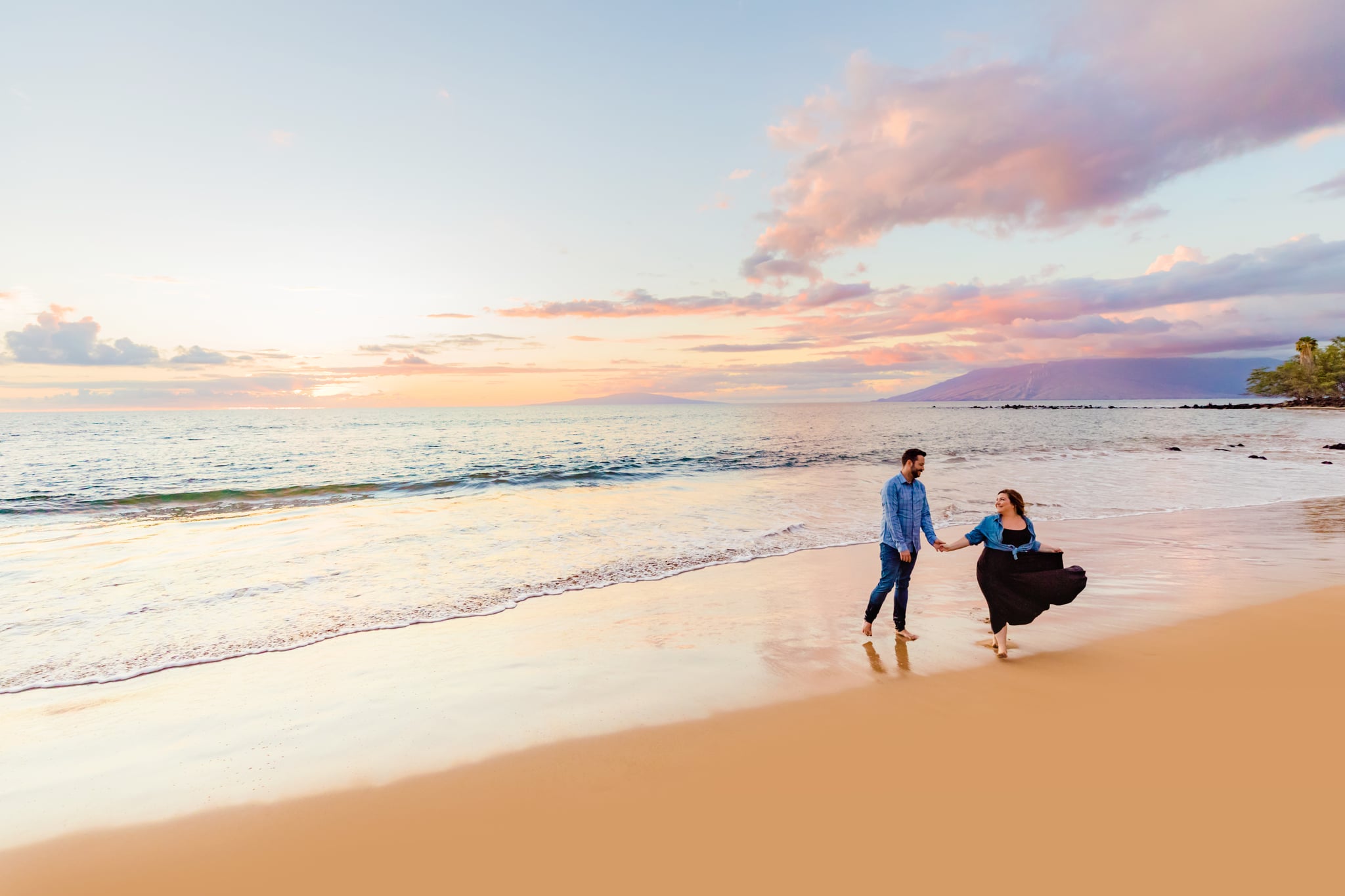 The first time I was a bride-to-be, a decade ago, I couldn't admit to myself just how much peer pressure contributed to my desire to tie the knot. But at 29, having been with my then-partner for five years, and surrounded by friends and loved ones who were getting a ring on it and hustling down the aisle, it felt like it was something that had to happen ASAP. Otherwise, my relationship, the life I'd been living for half of a decade, and even my self-worth were all in question. And in the very same way that I was swept up in the mad pre-30 rush to get married, I jumped on the bridal bandwagon by launching a grueling fitness campaign.
Many mornings, I had 6 a.m. workouts with a personal trainer. Sometimes I'd do two-a-day workouts, adding Spin classes to CrossFit-style strength training sessions. I cut out processed sugar almost entirely. I said these efforts were fueled by a desire to get stronger and more physically fit and to boost my health before trying to conceive in the not-too-distant future. Of course, I wanted all of that, but the secret truth was that I was intent on getting down to the smallest possible size for my wedding day. I felt like losing as much weight as possible was what was expected of me as a bride.
For me, the first time around, working out and willing my curves to slim down was a way to take control of something — anything — when my relationship was a train wreck.
Meanwhile, my relationship was as toxic as the diet culture I was falling prey to: we couldn't communicate, we didn't share key values, our baseline moods were stark opposites, we weren't compatible. To some extent, I realized all of this. But because I felt like I couldn't change it, I pushed harder than ever to change myself.
Society is slowly coming around to embrace Health at Every Size — "an antidiet approach to health care that's designed to help people take care of their bodies without trying to shrink them" — but wedding diet culture is still very much a thing.
"Thanks to what is featured in bridal magazines and images that many of us grew up with when we saw weddings in movies and on TV, we may think that being thin is ideal at a wedding, whether we realize it or not," says Lauren Manaker, a registered dietitian nutritionist and certified personal trainer. "Phrases like 'shredding for the wedding' take over the internet, highlighting how common the desire to lose weight is. But the truth is, we come in all different body sizes."
The fixation on thinness goes hand-in-hand with unrealistic, unattainable expectations about body image, points out Erikka Dzirasa, MD, MPH, a double-board certified child and adult psychiatrist and the chief medical officer at Arise, a digital health-care company offering eating disorder care and mental health support.
"[This can lay] the foundation for toxic relationships with food and exercise, low self-esteem, feelings of worthlessness, and disordered eating behaviors, such as restrictive eating, counting calories, purging, bingeing or excessive/compulsive exercise," Dr. Dzirasa notes. "Additionally, taking drastic measures to lose weight can be very dangerous and can result in serious medical and psychological complications."
At the same time, focusing on your appearance, which is temporary, can rob you of being present for this important moment, notes Dr. Dzirasa. "Such pressures are a distraction from the things that matter most — how you and your partner plan to grow emotionally, mentally, and spiritually as you embark upon your eternal bond in marriage," she says.
Thankfully, more soon-to-be married couples are realizing this. Zola recently surveyed over 4,000 couples getting married in 2023. When asked what the number-one expectation these couples would change about their upcoming wedding journey, 33 percent responded saying that they'd like to say goodbye to wedding diet culture.
Feeling exactly that way, especially after the experience I had 10 years ago — which was followed several years later by a divorce and lots of self-work — I'm actively resisting it in the lead-up to my second wedding. Instead of focusing on weight loss, I'm prioritizing experiences and practices that bolster my overall wellness. Unsubscribing from diet culture is easier said than done, but here's how I'm trying to do so as a bride-to-be.
I'm Focusing on How I Feel
On a serene beach in Montecito, CA, a couple of days after our third dating anniversary this past spring, I got engaged to my soon-to-be husband. One of the first people I shared the happy news with was my therapist. Our work together has led to so much spiritual, mental, and emotional growth — all of which I attribute to finding the healthy, joyful relationship of my dreams.
My regular weekly therapy sessions have been a foundational aspect of my wellness routine for long before I got engaged — but they've also been crucial as I've worked to reject the old body-image narrative that has seeped back in more than I'd like to admit.
This time around, when I went to try on wedding dresses, I was pretty nervous I'd hate how I looked. After all, I hadn't really worn anything but yoga pants through the pandemic, and though I worked out through COVID, life overall had organically been more sedentary. Not to mention, I'd gone through an egg-freezing cycle just two months prior, which can affect weight. But I knew that if I got really freaked out, my therapist was just a text or call away. I ended up pleasantly surprised and actually enamored with the last look I tried on. When I shot off a photo to my therapist, she told me I looked beautiful — but more importantly, reminded me to ask myself: How did I feel?
That's the question I've held in mind whenever my body image isn't at its best — when I'm frustrated with how my jeans are fitting or how I looked in a full-body photo. Instances in the past would've easily set off a panic spiral about having to step up my workouts or eat more restrictively before The Big Day. Now, I'm grateful to deal with these instances by tapping my therapist as a sounding board and realizing those feelings are fleeting as well as practicing self-compassion.
My Fertility Comes First
While I was cognizant of boosting my health the first time around, it's such an intense focus now that I'm 39 and in the midst of IVF. Sure, doctors will absolutely make weight a thing when you're trying to conceive, but working out too hard and eating too restrictively is ill advised for fertility. And in the grand scheme of things, when thinking about my health goals, really nothing — especially not how much I happen to weigh on one day of my life — could be more important than caring for my body in a way that will support a healthy conception, pregnancy, and then, with hope, motherhood and longevity. That game plan has included twice weekly acupuncture sessions with a fertility specialist and taking targeted supplements that have been associated with improved egg quality and pregnancy rates.
I'm Digging Into Nourishing, Creative Meals
For the sake of my fertility and also in order to reject toxic diet culture well before becoming a bride, I haven't been eating much differently than I usually do. I strive to eat mostly whole, unprocessed, anti-inflammatory foods — lots of veggies, fruits, lean protein, and whole grains. I refuse to have "never" foods — just everything in moderation, because anything else feels unsustainable, unrealistic, and stressful. Meal planning and grocery shopping is time-consuming and tough enough, let alone doing it in a way that makes you feel deprived and resentful.
Instead, I've decided to lean into being more creative in the kitchen — alongside my honey. During a recent wellness stay at our wedding venue, the Four Seasons Westlake Village in Westlake Village, CA, the awesome chef and staff nutritionist taught us how to spatchcock a whole chicken, pull together a gorgeous grilled asparagus, beet, and avocado salad, and kale sautéed with superfood mushrooms. And, the same weekend, we were treated to the most luscious in-room dining cheesecake. Zero regrets. That whole experience actually served to inspire me to cook more once we got home. Lately, I've been experimenting with various fish recipes in my air fryer and whipping up antioxidant-packed berry crisps for dessert.
I'm Moving My Body in Feel-Good Ways
I had no interest in 6 a.m. classes and twice-daily workouts this time around. I did a stint at Solidcore — a seriously tough Pilates class with a SoulCycle vibe — with a friend, but when it just didn't feel fun or nourishing for me mentally and emotionally, I felt OK throwing in the towel. I've found that moving my body in ways that feel nourishing and supported is precisely what I need to feel centered. Yoga and fairly low-impact circuit training have translated to more strength, mobility, a whole lot of endorphins, and — perhaps most importantly — a way to manage all the stress of my prewedding and professional life.
Mindfulness Is a Must
It is all too easy to get caught up in what you think you need to care about ahead of a wedding — versus what you actually care about. But one of the things my fiancé and I have been saying since we started planning our big day is that we wanted to be intentional and present, and feel like every step of the way was truly reflective of who we are — both as individuals and as a couple. There have been moments when that's easier said than done, but we've made a concerted effort to be mindful in part by taking time-outs from the everyday hustle to check in with one another and even explore our strengths and areas for growth as a couple. To that end, I've really valued diving into this with facilitators like our rabbi and the on-staff licensed marriage and family therapist that we met with for a rewarding mindfulness session during our wellness getaway. By stepping back and looking at the big picture, I can focus on what's actually important as we prepare to tie the knot.
The Bottom Line on Rejecting Toxic Wedding Diet Culture
Because getting married is such a big freaking deal, it can easily drudge up your darkest demons and insecurities. And given just how pervasive toxic wedding diet culture is, it's no wonder that, in a stressed and more vulnerable state, so many of us brides-to-be fall victim to it. For me, the first time around, working out and willing my curves to slim down was a way to take control of something — anything — when my relationship was a train wreck. I realize now that paying more attention to and caring for my mental and emotional well-being might have been a better use of my time and energy.
Thankfully, the way my life has played out has afforded me a do-over. And my relationship with myself once again reflects the relationship I'll soon be making "official." But this time, it's healthy, happy, mindful, and loving. And really, for any bride-to-be, what could be more "ideal"?