Products You May Like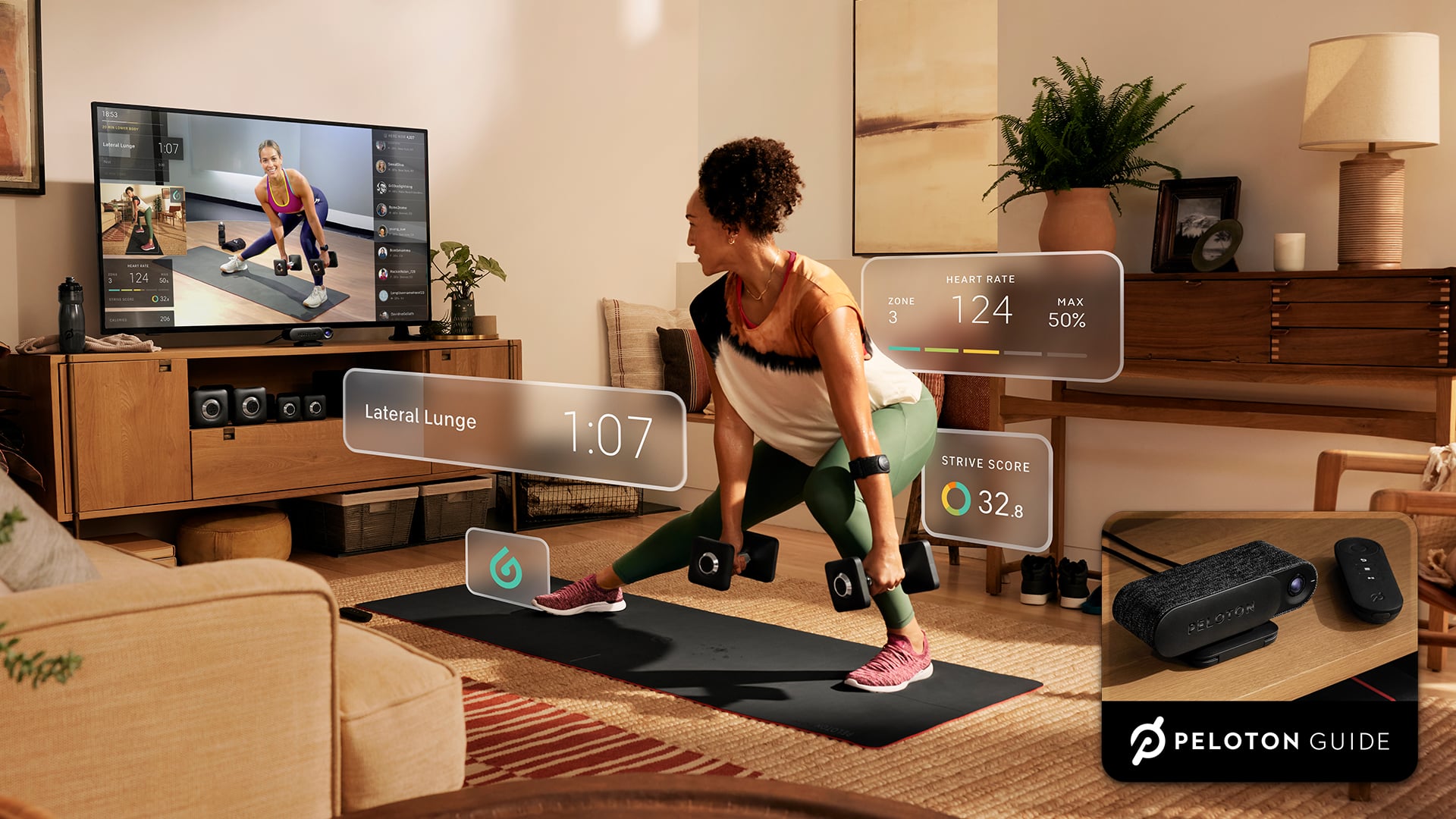 Image Source: Peloton
Peloton's new strength product, Peloton Guide, is a smart camera that connects to your TV. It uses a type of AI called "machine learning" to help you track your movements and correct your own form (more on that later). I've been a Peloton member for over two years now, though I've never owned a Peloton Bike or Tread, and this sounds like something my strength-loving self would benefit from given that I stream classes from the digital app on a weekly basis.
Peloton cofounder and Chief Product Officer Tom Cortese said in a statement: "Peloton Guide demystifies strength training to create a more engaging experience that will help Members stay motivated. We combined our world-class Instructors and class content with the best machine learning technology to create a whole new way to train. This is just the beginning for Peloton strength. Guide will keep getting smarter so it can grow stronger alongside our Members." Ahead, I break down everything we know about Peloton Guide so far, coming early next year.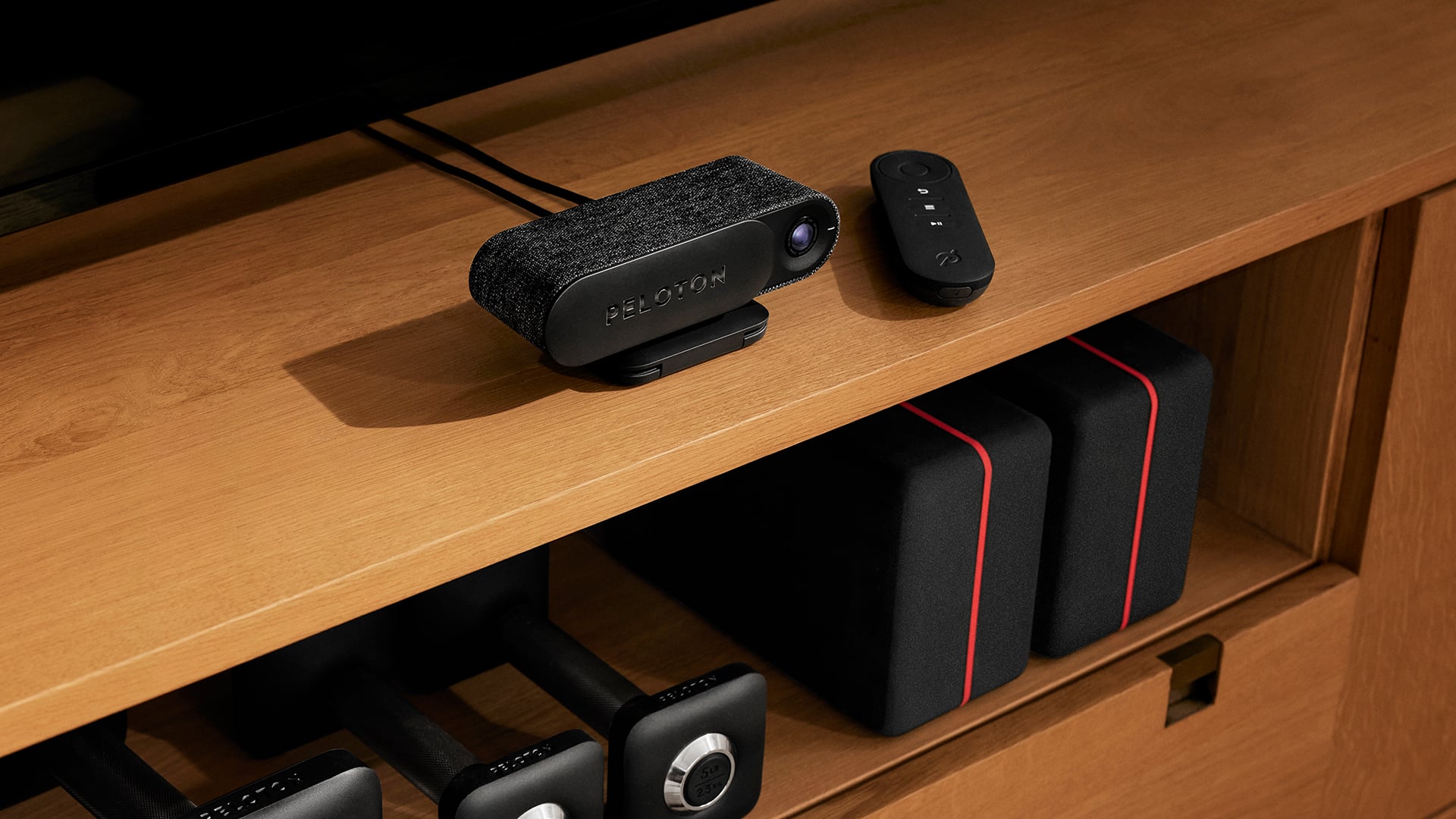 Image Source: Peloton
How to Work Peloton Guide
Plug Peloton Guide into your TV with an HDMI cable, and make sure it's on a flat, stable surface. Use your own weights, or buy them on the Peloton site — though you can still do bodyweight sessions — and make sure you have enough room so Guide has a clear view of your workout space. Guide, which is voice activated in the US, Canada, and the UK, tracks your movements to encourage you to follow the instructors for the whole class, a company announcement explained. However, Peloton assures that it's fine if you're not going as fast as the trainer in front of you. The "body activity" feature logs which muscle groups you've worked in a given week and offers personalized suggestions for classes that hit other muscle groups accordingly.
Monitor your form by using "self mode" to view yourself on screen along with the instructor leading the class. In other words: Guide doesn't make corrections for you, you're basically mirroring yourself exercising and keeping an eye on your technique in comparison to the onscreen instructor. The device is meant to enhance the quality of your strength session, but it doesn't provide feedback on form.
In terms of privacy, Peloton says sliding the cover over the camera will put Guide to sleep. You can also turn off the microphone with a switch on the device, though Peloton notes your mic will not be on if you aren't taking a class.
How Much Does Peloton Guide Cost?
You can buy Peloton Guide for $495 in the US and Canada starting in early 2022, and it will be packaged with the new Peloton heart-rate armband (a Peloton spokesperson confirmed it's only available as a bundle; you can't purchase Guide without the armband). Peloton Guide will go on the market in the UK, Australia, and Germany later in 2022. A monthly Peloton Guide membership to stream classes costs $13 per month, the same current price as a digital membership, and it allows access for up to five different users within your household.
Do I Need a Peloton Guide Membership If I'm Already a Peloton Member?
No, existing members will not have an additional membership fee for the Peloton Guide membership. All-Access subscription holders specifically — available to people with the Peloton Bike, Bike+, Tread, and Tread+ hardware — don't have to pay extra for the Peloton Guide membership. As Peloton wrote on Twitter, "If you are an All-Access Member, you won't need a separate Membership for Peloton Guide. You'll also be able to view your workout history from other Peloton devices on your Peloton Guide." And those with digital subscriptions to the app can upgrade their membership option to include Peloton Guide at no extra cost.
What Classes Do I Have Access to With Peloton Guide?
It's unclear if Peloton Guide can be used for both live classes and on-demand classes — Peloton said the company could not comment at this time. The company announcement did state, however, that it "expects to update and enhance Peloton Guide continuously by constantly training the machine learning model on new movements and disciplines and adding new Instructor-led training programs and classes."
People with Guide memberships can still access Peloton's full library of classes that do not require a Guide, a spokesperson told POPSUGAR — the library will include hundreds of Peloton Guide strength classes with the movement-tracking and self-mode capabilities. And any Peloton member can take Guide classes since they will be uploaded into Peloton's content library. Members who do not own a Guide simply won't have tracking, self mode, and other Guide features available to them in those classes.
Peloton lists the following trainers who will create and lead workouts and programs specifically with Peloton Guide's machine-learning features in mind: Rebecca Kennedy, Robin Arzón, Rad Lopez, Selena Samuela, Jess Sims, Ben Alldis, Callie Gullickson, Daniel McKenna, Matty Maggiacomo, Andy Speer, Chase Tucker, and Adrian Williams. Gullickson and Lopez started with Peloton back in June as strength-focused instructors.
Sign up for more information on Peloton Guide here. I, for one, am intrigued and ready to see what the Peloton community thinks.